K-Electric holds Baloch FC 1-1 in Pakistan Premier Football League 2018
K-Electric and Baloch FC Noushki played a 1-1 draw in the yesterday match played into the last phase of 12th Pakistan Premier Football League which is being conducted at KB, KMC and KPT stadiums in Karachi.
12th Pakistan Premier Football League
Qila Qasim Bagh, Multan, Punjab Stadium, Lahore, KPT and KMC, Karachi.
As one of the top standing teams in the league, K-Electric team was seen falling on its performance as against Baloch FC Noushki team. Players from either teams fell shot on goals and ended the match on 1-1 score-line as both the teams were not able to name the win of the game.
Teams as a whole, from both sides, fought hard and tried their level best to score past each other's net post but the goalkeeping and tactics from each team was too strong to follow as the players kept refusing the other teams attempts and did not let each score at all in the entire first half.
However, much later into the second half, Baloch FC's Muhammad Asif held the opener for his team through brilliantly netting a goal past the well organized path of the opponent players on the field giving much hope to his team at the win in the game.
But there were no signs seen of agitation as K-Electric boys did not fail in sustaining the pressure and then took a grip of the game through Waseem Shahzad just after 2 minutes to the first goal of the game by their opponents, through slamming past the hard defence of Baloch FC players and spectacularly led the ball find way past the opposite goal post.
Top Scorer Standings: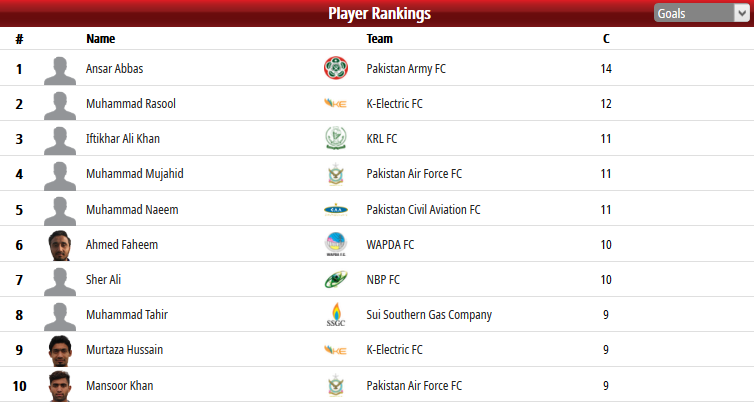 Current Team Standings: