Muhammad Munir stands 4th in UMA-CNS Open Golf Championship 2018
Muhammad Munir from Pakistan earns the 4th spot in the final round of UMA-CNS Golf Championship 2018 which was held at Karachi Golf Club.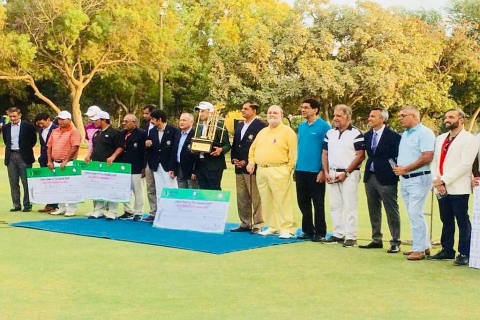 UMA Chief of Naval Staff Open Golf Championship 2018
Karachi Golf Club
Muhammad Munir, Matloob Ahmed and Muhammad Shabbir are the three golfers from Pakistan's side to make it to the winning chart with Muhammad Munir's total aggregate of four rounds 69, 69, 72 and 68 making it a total of 278.
While Matloob Ahmed is locked with golfers from Thailand and China at the 12th spot. His total aggregate of all the four rounds was 72, 70, 70 and 68 making it a total of 280.
Pakistan's top-ranked golfer Mohammad Shabbir finished on 282 after firing a 70. Tied with him are Englishman Matthew Killen and two-time Asian Tour winner Siddikur Rahman of Bangladesh.
However, Thailand's Tirawat Kaewsiribandit ended the championship by claiming the title and won US$54,000 with his total of 276.
Muhammad Munir raised hopes of becoming the first Pakistani winner of an Asian Tour tournament on home soil when he hit four successive birdies on the turn but a bogey on the 15th impeded his progress. He pocketed a price money of US$15,000 whereas Matloob won US$10,280 and Muhammad Shabbir got US$4,585.
Chief of Naval Staff Open Golf Championship 2018 (CNS) was being organized under the responsibility of Pakistan Golf Association (PGA) with the title sponsorship of United Marine Agencies (UMA).
The championship made its debut on the Asian Tour after 11 years of long gap and this event will receive Official World Golf Ranking (OWGR). This is the first time Pakistan hosted an Asian Tour event since 2007.