Ahmed, Shabbir and Munir tops the first round from Pakistan's side in UMA CNS Open Golf Championship 2018
Out of 17 Pakistanis Ahmed, Shabbir and Munir make it to the top spots from Pakistan's side in the 2018 UMA CNS Open Golf Championship which is being staged at Karachi Golf Club.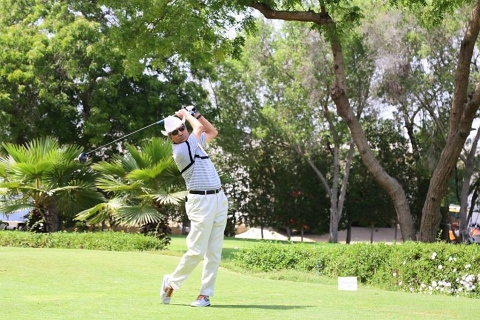 UMA Chief of Naval Staff Open Golf Championship 2018
Karachi Golf Club
With Asian Tour making its comeback to Pakistan after a 11 years of long gap, local golfers are provided a chance to prove their hard efforts and passion for the game and certainly with 17 Pakistani golfers among the top 42, and one at top the leader-board, local golfers did not let this opportunity miss from the very first round of the championship.
Ahmed Baig, Shabbir Muhammad and Muhammad Munir topped the first round from Pakistan's side with the 19 year old Ahmed who is not yet a professional golfer, made four straight birdies in his opening six holes.
A shocking five-under 67 turn the tide in his favor by getting him a lead with Namchok Tantipokakhul of Thailand.
While the leading local golfer of Pakistan, Shabbir Iqbal was in a four-way tie with Indian Honey Baisoya, James Ryan Lam of the Philippines and Thailand's Pawin Ingkrapradit.
Muhammad Munir played bogey-free round and is locked at 69 with Thailand's Suradis Yongcharoenchai and his fellow countrymant Jakraphan Premsirigorn along with Sunny Masih and Shahid Javed with 69 as well.
And one behind are Pakistan's Muhammad Naeem, Taimoor Khan and Talib Hussain with three players from Thailand namely: Piya, Sutijjet and Pasavee with 71 in total of first round.
The championship will now witness the second round with five strokes separating 42 players today as the battle for the title is still up that can surely change tides for the players.
Following are the other Pakistani players' total score:
1. Matloob Ahmed – 72
2. Muhammad Safdar Khan – 73
3. Dilshad Ali – 70
4. Hussain Imdad – 70
5. Amjad Yousaf – 72
6. Ashir Masih – 72
7. Nisar Hussain – 72
8. Kamran Shafique – 72
9. Waleed Baloch – 72
10. Moazzam Siddique – 72
11. Muhammad Nisar – 73
12. Wisal Khan – 73
13. Muhmmad Imran- 73
14. Muhammad Alam – 73
15. Muhammad Amir – 73
16. Jafal Hussain – 73
17. Sajjad Khan – 73
18. Muhammad Zubair – 75
19. Mishal Khan – 75
20. Hamza Amin – 75
21. Ashraf Ali – 75
22. Ansar Mehmood – 75
23. Ahmeed Saeed – 75
24. Shafaq Khan – 75
25. Mudassir Iqbal – 75
26. Muhammad Khalid – 75
27. Roffin Shamim - 75
28. Muhammad Akhtar – 76
29. Zulfiqar Ali – 76
30. Khalid Khan – 76
31. Muhammad Abid – 76
32. Muhammad Ashfaq – 76
33. Muhammad Zubair – 76
34. Attiq Ur Rehman – 76
35. Zubair Khan – 77
36. Asd Khan – 77
37. Muhammad Akram – 77
38. Talat Ijaz – 77
39. Muhammad Asif – 77
40. Arshad Rasheed – 77
41. Muhammad Qasim – 77
42. Muhammad Saddique – 77
43. Rehmat Ullah – 77
44. Danyal Jahangir – 78
45. Imran Khan – 79
46. Addil Jahangir – 79
47. Abid Rana – 79
48. Mehran Pervaz – 79
49. Tahir Naseem – 80
50. Muhammad Shehzad – 80
51. Auranzaib Khan – 80
52. Muhammad Abid – 80
53. Akhtar Ali – 80
54. Kashif Masih – 80
55. Rafique Ahmed – 81
56. Muhammad Afzal – 81
57. Latif Rafiq – 82
58. Shahbaz Masih – 82
59. Abdullah – 82