UMA Chief of Naval Staff Open Golf Championship 2018 tee off tomorrow
Professional golfers from more than 14 countries are featuring in the UMA Chief of Naval Staff Open Golf Championship 2018 which is scheduled to be staged from 11th to 14th October at Karachi Golf Club.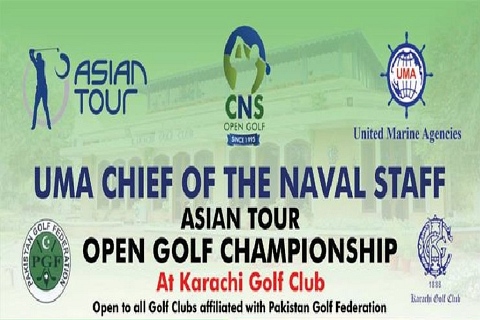 UMA Chief of Naval Staff Open Golf Championship 2018
Karachi Golf Club
Chief of Naval Staff Open Golf Championship 2018 (CNS) is being organized under the responsibility of Pakistan Golf Association (PGA) with the title sponsorship of United Marine Agencies (UMA).
The championship is making its debut on the Asian Tour after 11 years of long gap and this event will receive Official World Golf Ranking (OWGR) points after its full conduction and will be played in the Pakistan's oldest golf course, The Karachi Golf Club (KGC). This is the first time Pakistan is hosting an Asian Tour event since 2007.
Professional golfers from Austria, Australia, Bangladesh, England, India, Indonesia, Spain, South Africa, Thailand, Philippines, Sweden, Singapore, Korea, USA and several other countries have landed in Karachi to compete in this championship.
Eligible golfers who can participate are stated below:
1. KGC Caddies and Semi professionals
2. Senior Professionals
3. Junior Professionals
4. Amateurs having handicap 12 and below
5. Seniors having handicap 14 and below
6. Veterans having handicap 18 and below
7. Ladies having handicap 24 and below
The event will be played in 7 different categories. Matches for Seniors will be contested over 18-holes while matches for Veterans will be contested on 9-holes and as for Ladies, the contests will be played in two sub-categories: Juniors Class A (15-17 Years) and Juniors Class B (12-14 Years), both on 18-holes.
The Championship is open to all golf clubs that are affiliated with Pakistan Golf Association and this championship carries an incredible prize money of US$300,000 and 5 Million PKR to the winners of the championship while brand new Suzuki Ciaz and Toyota Fortuner car will be awarded to the golfers who will mark his/her victory on first hole-in-one. Also, the golfers making their win in second hole-in-one will be awarded with Suzuki 600cc bike and a golf set.
The championship is also sponsored by Engro, National Bank of Pakistan, PSO, Toyota, Suzuki, Meezan Bank, Arena, National Foods and Allied Bank.
Asian Tour Chief Executive Officer Josh Burack said: "On behalf of the Asian Tour, I'd like to thank Mr. Shams and the UMA for their support and commitment to the UMA CNS Open Golf Championship 2018. Their title sponsorship is a very positive step towards the development of golf in Pakistan, as well as the region."