Pakistan to face arc-rivals India in 2018 SAFF Suzuki Cup semi-final
Pakistan win the match against Bhutan by 3-0 and booked the semi-final spot with India at the Bangabandhu National Stadium in Dhaka, Bangladesh.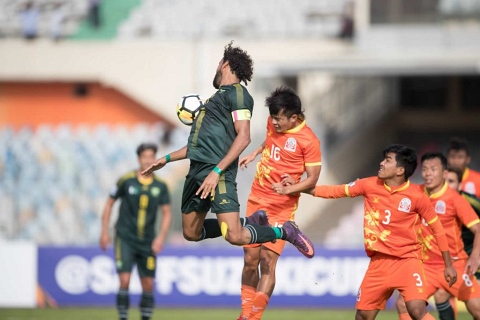 SAFF Suzuki Cup 2018
Dhaka, Bangladesh
Pakistan made the start with an aggressive form taking the lead in the first 20th minute of the match through Mohammad Riaz who once again proved to be of great advantage for his team and opened the tally for Pakistan. Pakistani footballers were determined to progress from their previous loss to Bangladesh and doubled their lead as Hassan Bashir netted yet another goal for Pakistan at the 29th minute. Bhutan side however, failed to turn their attempts into goals and was not able to score a single goal throughout the game. Pakistan ended the first half with a 2-0 lead over Bhutan.
In the second half, Bhutan's Football Team tried hard to score but failed once again in scoring much needed goals for their side despite having several moves. Pakistan was leading with 2-0 throughout the game and increased its lead by 3-0 when the third goal for Pakistan was netted by Faheem Ahmed in the 91st minute. This was Pakistan's determined performance as the players gave their all to win and book themselves for the semi-final place.
In another match, India kept its dominating performance winning against the opponents Maldives in their group B match registering yet another win by 2-0 and booked their place in the semi-final with Pakistan.
Pakistan will now face the rivals India while Maldives will take on Nepal in the two semi-finals on 12th September at 06:30 PM and 03:00 Pakistan Standard Time respectively.