Pakistan beat Bangladesh 5-0 to maintain their winning streak in Asian Games Hockey
Pakistan hockey team defeated Bangladesh by 5-0 in the 18th Asian Games Men's Hockey match to maintain their top spot in Pool B.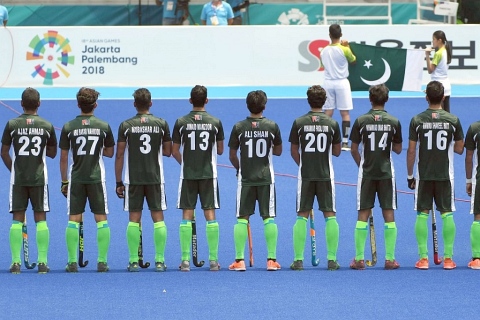 18th Asian Games 2018
Gelora Bung Karno Main Stadium, Jakarta
Pakistan defeated Bangladesh to maintain their top spot in Pool B of 18th Asian Games Men's Hockey with 5 wins and no losses.

Muhammad Atiq magnificently scored the opening goal for Pakistan in the first minute of the match then Mubashar Ali beautifully score another goal at 8th minute though a penalty corner to double the lead at 2-0 while the first quarter remained futile for Bangladesh as they didn't score any goal.
Pakistani players put pressure on Bangladesh as at the 21st minute of the second quarter Mohammad Mainul Islam of Bangladesh was shown a green card. Pakistan continued their attack, as at the 25th minute Mubashar Ali scored another goal from a penalty corner to further enhance the lead by 3-0.
At the 36th minute of the third quarter Ali Shan scored goal for Pakistan to make it 4-0.Pakistan team played marvelously as they didn't allowed opponents to score any goal at the end of third quarter.
In the last quarter Muhammad Atiq lead Pakistan to get the top spot in thePool B as he managed to netted the ball at the 48th minute from a penalty comer to get Pakistan into 5-0 lead.