Pakistan edges out India in Hockey
Pakistan defeated India in SAF Games 2016 by 2-1. Fareed and Arslan scored for Pakistan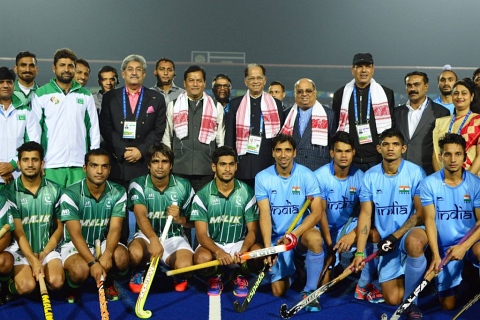 South Asian Games 2016
Pakistan defeated India in SAF Games 2016. Pakistan wins the match by 2-1. Despite of the injuries of the 3 main players Pakistan dominated in the match.

It was a match which produced thrilling hockey. In the 11th minute Fareed nets the goal for Pakistan to put them ahead. Arslan scored in the 37th minute to double their lead

After the 2nd goal the Indian team kept the possession and tried to score multiple times. In the 53rd minute, Mandeep Antil of India finishes the ball in the net to make the score line 2-1.

Indian team tried their best to comeback in the match but Pakistan's defense didn't let it happen and defended it quite well to win the match 2-1 at the full time.

It was a good day for Pakistan overall in the SAF games 2016 as Pakistan won 2 gold medals. Nasir Iqbal (Squash) and Zaman Anwar (Wrestling) secured gold medals for Pakistan.