Japan tame Pakistan to win triangular hockey tournament
Japan defeated Pakistan 3-2 to win the three nation hockey tournament played at Sultan Qaboos Sports Complex, Muscat.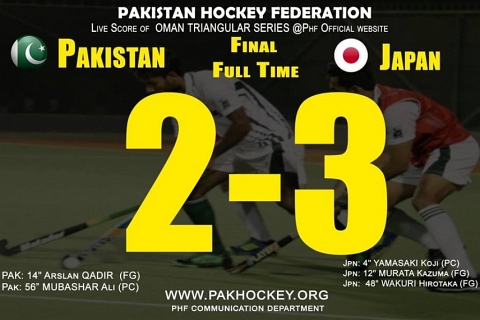 Oman Triangular Series 2018
Muscat's Sultan Qaboos Sports Complex
The stadium was jam packed and mostly people were chanting slogans about Pakistan but in a fast tempo match, Japan outpaced Pakistan to clinch the title.

Japan took the lead in the fourth minute of first quarter when they got first penalty corner and Yamasaki who was standing near the goal post netted the ball with an extended flat stick.

Soon Japan doubled the lead in the 12th minute of first quarter as Pakistani defense was looking shaky with poor marking as Kazuma Murata who was standing open scored the second goal for Japan.

After two minutes, Pakistan in their counter attack scored a goal to reduce lead as in the 14th minute of the first quarter, captain Rizwan senior gave a high ball from the left side which was not fully intercepted by defender and after the reflection to his stick, Arslan Qadir got the ball who without making any error netted the ball.

Crowed witnessed a goalless second quarter as at the half time, Japan was leading 2 -1 against Pakistan.

As the third quarter started, Japan started the match with the same pace and kept the ball with them most of the third quarter with the disciplined display of hockey and they kept on attacking Pakistani post from both corners.

Meanwhile, third quarter also went goalless but in the 50th minute of fourth quarter, Japan from the corner, attacked on Pakistan's post and score the goal through Hirotaka Wikuri. The lead was doubled once again and Pakistan had 10 minutes in hand to clear the lead as they started attacking on Japanese post and got couple of open chances and two penalty corners but they missed three straight chances.

In such an effort to reduce the goal lead, Pakistan got last penalty corner in the 56th minute of 4th quarter which they successfully converted into goal through Mubashir Ali. After the goal with four minutes remaining, Pakistan posted another attack in the last few seconds of the game as a strong push of Mubasir Ali hit the board on goal keeper's right but the time ran out as Japan grabbed the title by 3-2 at the end.