Pakistan overpowers Japan, into the final of tri-nation hockey tournament
Pakistan routed Japan 2-1 to win the match and breezed into the final of triangular hockey tournament at Sultan Qaboos Sports complex Muscat.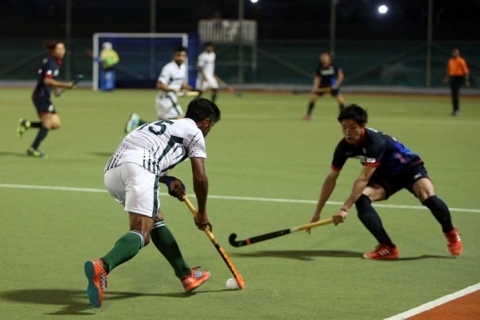 Oman Triangular Series 2018
Muscat's Sultan Qaboos Sports Complex
Pakistan registered its first victory over Japan in last 5 matches but the most important victory steers Pakistan into the final of tree nation hockey tournament. In last 5 fixtures, Pakistan lost twice while drawn the other two matches.

It will surely be a morale booster for Pakistan before the final to be played tomorrow.

First half remains goalless as none of the team was able to score in first and second quarter but in the 32nd minute of third quarter, Mubashar Ali netted the ball through a penalty corner and took 1-0 lead over Japan.

Japan did not wait too long for equalizer as Kenta Tanaka also converted the lonely goal as he converted the penalty corner into goal in the 34th minute, only two minutes later. After the equalizer, both sides tried hard to take lead till the end of 3rd quarter.

Both teams started the fourth quarter with the same pace but it was experienced Umar Bhutta from Pakistan who scored a beautiful field goal to take the lead once again in the 48th minute of 4th quarter. Japan started attacking on Pakistani goal post but Pakistan defenders blocked every attempt and won the match by 2-1.

Pakistan played four matches of the double league phase and secured eight points. Japan and Oman have a game in hand with 4 and 1 point respectively and both the teams face each other for the last time today before the final match.

Only a big win for Oman over Japan can help the hosts to qualify for the final against Pakistan as Japan have a goal difference of +2 while Oman's goal difference is -6 and in all probabilities, it will be a Pakistan Vs Japan final coming up.