Matloob Ahmad seals the CAS Golf Championship Title
Matloob Ahmad secured the first position in 37th CAS Open Golf Championship played at Airmen Golf Club PAF Base Korangi Creek.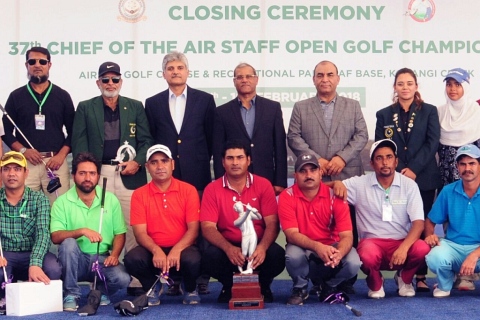 37th Chief of Air Staff Open Golf Championship
Airmen Golf Course Karachi
Total 325 golfers including 112 Professionals participated in the championship from all over the country for Rs 8 Million which is biggest prize money in Pakistan. Matches in the category of Professionals, Senior / Junior Professionals, Amateurs, Airmen Golf Course Members, Ladies, Veterans and Invitees were played during the championship.
In the professionals' category tough competition was seen between Matloob Ahmad and Zulfiqar Ali. Both the players tried hard to rule the final day but Matloob Ahmed won the Championship with a gross score of 285 (03 Under-par) and 2nd position was secured by Zulfiqar Ali with the gross score of 287 (01 under par) while third position was tied between Muhammad Shabbir and Waheed Baloch with the gross score of 288 par.
In Amateurs category Mahammad Adnan of Western Winds Golf Club secured the first position in net with 216 score and Ghanzanfar Mehmood of Bahawalpur Golf Club have secured first place in gross with 227 par.
In Ladies, Aania Farooqi won Gross title for sixth consecutive time with the score of 91 while in Net Category Ayesha Fauzan stood first with score of 79.
Air Chief Marshal Sohail Aman graced the ceremony as a chief guest and distributed the prizes among the position holders.