Aisam, Aqeel steers Pakistan to win Davis Cup Group-I tie
Aisam ul Haq and Aqeel Khan won their singles and doubles matches while Abid Ali Akbar wins reverse singles to register 4-0 victory against Korea in the Davis Cup Asia-Oceania Group-I tie.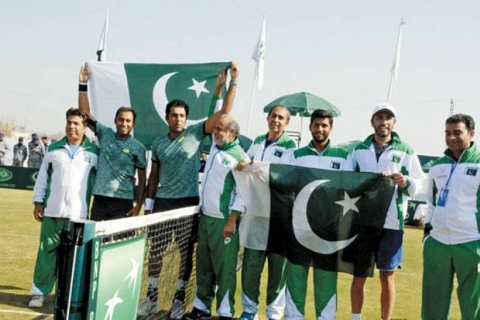 Davis Cup Asia-Oceania zone Group-I First Round tie 2018
Pakistan Sports Complex, Islamabad
Aqeel Khan and Aisam Ul Haq won their singles on the first day while both showed up for Pakistan in the doubles match against Korea on second day of Davis Cup. Pakistani duo Khan-Qureshi outplayed KWON Soonwoo and LIM Yong-Kyu in straight sets by 7-6(8), 6-4 and took undeniable lead of 3-0.

First set lasted for 1 hour and 1 minutes while Khan-Qureshi wrapped up the second set in just 43 minutes. Korean challengers started the first set with aggression as they were 2-0 down and they wanted to alive series after winning the doubles match. After losing the first serve, Pakistani duo came out of their shell and started playing aggressively. Both the pairs ended on 6-6 after holding their serves.
It went in favor of Korea soon by 3-1 in the tie break but Aisam and Aqeel bounced back to level the game on 3-3. More drama continues as Pakistani was on the driving seat on the score of 7-6 but Aqeel Khan made a double fault but then Pakistani duo hold their nerves back and without giving any room, won the intense yet entertaining first set by 7-6(8).
Korean team once again tried to grab the second set but Pakistani duo made it impossible for the challengers. Aqeel Khan was looking off-color in the start of second set but soon he came back in rhythm as the score was leveled on 4-4 Aisam and Aqeel breaks the 9th serve of second set and then hold their own serve to win the match and takes lead in the series by 3-0.
After the doubles match, both the teams decided to play 1 reverse singles as Mohammad Abid Ali Akber came in the center while Korea picked Minjong Park for the last match. Abid was highly charged as Pakistan was clearly on the top. Abid defeated Minjong Park by 7-6(2), 7-6(5) in 1 hour 43 minutes.
Both the players started aggressively and broke each other's breaks reached on 6-6. First set was decided on tie break where Abid grabbed the set by 7-6(8). Second set was identical to first as both players broke each other's serves and the set was again leveled on 6-6 and once again decided on tie break. Minjong twice got chances to wrap up the match but could not capitalize but Abid availed his chances properly and again he won the second set by 7-6(5).
Pakistan, now will play the semifinals against Uzbekistan on April 6 and 7 in Pakistan.