Aqeel, Shahzad ahead hopes alive for Pakistan in Begum Kulsum ITF Tennis Tournament
Aqeel Khan and Shahzad Khan kept Pakistan's hopes alive as they defeated Indian pair to move into the semifinal of the Men's double event of Begum Kulsum ITF Futures Tennis Tournament.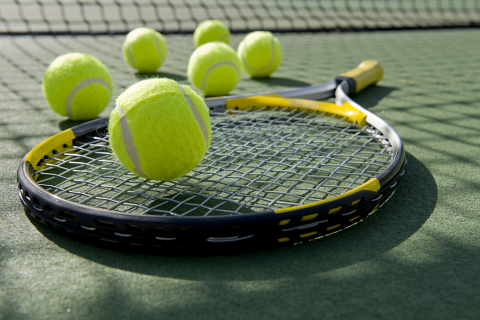 Begum Kulsum Saifullah - ITF Futures F2 Tennis Tournament
Syed Dilawar Abbas Pakistan Tennis Federation Complex, Islamabad
In the second round match, Pakistani duo defeated pair of Canadian-Singapore players Kelsey Stevenson and Roy Hobbs by 7-6(3), 6-1. Stevenson and Hobbs breaks very 1st serve of Pakistani pair to take 1-0 lead. Aqeel Shahzad broker the 6th serve of foreigner pair and level the score to 3-3. On 6-6 tie break, Pakistani pair won the 1st point but was levelled right away. Khan's once again bounce back and earned 3 back to back points to take 4-1 lead but once again Kelsey Stevenson and Roy Hobbs earned 2 points and reduced the lead to 4-3 but at that point, Pakistani pair secured 3 more points and won the 1st set by 7-6(3). In the second set, khan's dominated from the start and only conceded 1 point to win the second set by 6-1 and moved to the quarterfinal of Men's doubles event.

Top seeded duo of Austrian Peter Goldstiner and German Julian Onken defeated the unseeded pair of Pakistani players Samir Iftikhar and Mohammad Abid Ali Akbar in the 2nd round of Men's double event by 4-6, 6-2, 10-3. Pakistani unseeded pair dominated the 1st set and easily won by 6-4. In the second set, the Austrian-German pair defeated Pakistani pair by 6-2. In the last set, the top duo earned victory by 10-3 and through to quarterfinal of the tournament.

In another second round match, Russian Ivan Ponomarenko and Dmitry Myagkov outclassed Pakistani players Muhammad Abid and Usman Rafique by 6-0 and 7-6(3). Russian duo outsmarted Pakistani pair in the 1st set easily without conceding a single point. Pakistani pair resisted against the Russian team but lost the match on the tie break by 7-6(3).

In the 1st Men's doubles quarterfinal round match, No.3 pair of Russian Shalva DZHANASHIA and Ivan Nedelko defeated Indian pair Kunal Anand and Jatin Dahiya in straight sets by 6-1, 6-1 and moved into semifinal of the tournament.

Pakistani duo Aqeel khan/Shahzad Khan won the quarterfinal against Indian Anurag Nenwani and Jayesh Pungliya in straight sets. Khan's won first set by conceding 2 points while won the second set by conceding just 1 point and won the match by 6-2, 6-1. In the last match played today, Ukrainian-Russian players Alexander Lebedyn and Anton Chekhov defeated Russian pair Russian Ivan Ponomarenko and Dmitry Myagkov in straight sets by 6-0, 6-1.

Following are the results
Men's doubles - 2nd Round
| | | | | |
| --- | --- | --- | --- | --- |
| 1 | Aqeel Khan/Shahzad Khan | def. | Kelsey Stevenson/Roy Hobbs | 7-6(3), 6-1 |
| 2 | Peter Goldstiner/Julian Onken | def. | Samir Iftikhar/Mohammad Abid Ali Akbar | 4-6, 6-2, 10-3 |
| 3 | Ivan Ponomarenko/Dmitry Myagkov | def. | Muhammad Abid/Usman Rafique | 6-0 and 7-6(3) |
Men's doubles - Quarterfinal
| | | | | |
| --- | --- | --- | --- | --- |
| 1 | Shalva DZHANASHIA/Ivan Nedelko | def. | Kunal Anand/Jatin Dahiya | 6-1, 6-1 |
| 2 | Aqeel khan/Shahzad Khan | def. | Anurag Nenwani/Jayesh Pungliya | 6-2, 6-1 |
| 3 | Alexander Lebedyn/Anton Chekhov | def. | Ivan Ponomarenko/Dmitry Myagkov | 6-0, 6-1 |