No Pakistani in Begum Kulsum ITF Tennis Tournament's quarterfinals
None of the Pakistani players make their ways into the Men's singles quarterfinals of Begum Kulsum ITF Futures Tennis Tournament.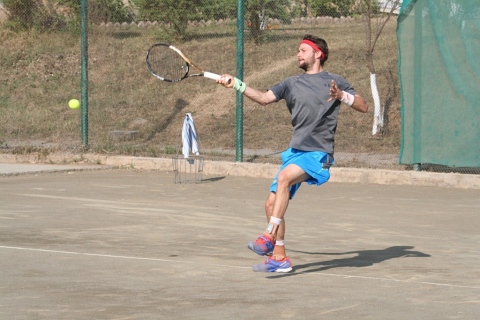 Begum Kulsum Saifullah - ITF Futures F2 Tennis Tournament
Syed Dilawar Abbas Pakistan Tennis Federation Complex, Islamabad
All the Pakistani hopes gone as their top ace Aqeel Khan lost his match against top seeded Russian Ivan Nedelko in straight sets while Muhammad Abid and Samir Iftikhar were also eliminated in the second round of Begum Kulsum ITF Futures Tennis Tournament.

In the reaming first round matches, second seeded Spaniard Enrique LOPEZ-PEREZ ousted Alexander Lebedyn from Ukraine in straight sets by 6-1, 6-3. In yesterday's interrupted game Indian Anurag Nenwani defeated Russian Oleg Besednikov by 4-6, 7-5, 6-2. Austrian No.7 seed Peter Goldstiner earned victory against Russian Ivan Ponomarenko by 6-2, 6-1. Kunal Anand from India downs Vadim Alekseenko by 7-5, 7-5.

In another first round match, Russian Dmitry Myagkov ousted German Felix Hutt in straight sets by 6-4, 6-1. No.3 seeded Russian player Kristan Lozan defeated countryman Nikolay Vylegzhanin by 6-3, 6-1. Turkish Ergi Kirkin defeated Pakistani Shahzad khan 6-2, 6-4. In another yesterdays interrupted encounter, Pakistani player Muhammad Abid outclassed another local Muzammil Murtaza in 2 hours 28 minutes match by 6(5)-7, 6-3, 6-0.
In the first match of second round, Spanish Enrique LOPEZ-PEREZ defeated Turkish Ergi Kirkin by 7-5, 6-3. German No.6 Julian Onken defeated Pakistani challenger Muhammad Abid by 6-0, 6-1. Kristan lozan ousted Kelsey Stevenson by 5-7, 6-0, 6-0. French Luka Pavlovic downs Indian Anurag Newani by 6-4, 6-2. Indian Kunal Anand defeated by Russian Shalva Dzhanashia 6-0, 6-2.

Spaniard Pere Riba outclassed Pakistan's Samir Iftikhar by 6-4, 6-2 in the second round of Men's singles while Top seeded Ivan Ndedlko outclassed Pakistani Aqeel Khan by 6-2, 7-6(1) and in the last match of Men's singles Peter Goldsteiner from Austria downs Russian Dmitry Myagkov by 7-5, 7-5.
In the first round of Men's doubles event, second seeded pair of Ukrainian Alexander Lebedyn and Russian Anton Chekhov defeated Pak-French pair of Muzammil Murtaza and Luka Pavlovic by 5-7, 6-2, 10-8. Turk-Russian pair of Ergi Kirkin and Nikolay Vylegzhanin defeated Pakistani pair Aman Attique Khan and Yousaf Khalil in straight sets by 6-1, 6-0. Russian No. 3 seed pair Ivan Nedelko and Shalva Dzhanashia downs Pak-Canadian pair of Yasir Khan and Mohammed Wagas Malik by 6-2, 6-3.

Indian players Jayesh Pungliya and Anurag Nenwani outclassed countrymen Ajay Pruttvi Nemakal and Paramveer Singh Bajwa by 6-2, 6-4 and in the last match of Men's double category Indian Jatin Dahiya and Kunal Anand duo ousted Ukrainian Vadim Alekseenko and Gleb Alekseenko by 7-5, 1-6, 10-7.

Matches will start from 10:00am tomorrow. Men's singles quarterfinals and Men's doubles first round matches will be played.
Following are the Results
Men's Singles - 1st Round
| | | | | |
| --- | --- | --- | --- | --- |
| 1 | Enrique LOPEZ-PEREZ (Spain) | def. | Alexander Lebedyn (Ukraine) | 6-1, 6-3 |
| 2 | Anurag Nenwani (India) | def. | Oleg Besednikov (Russia) | 4-6, 7-5, 6-2 |
| 3 | Peter GOLDSTEINER (Austria) [7] | def. | Ivan Ponomarenko (Russia) | 6-2, 6-1 |
| 4 | Kunal Anand (India) | def. | Vadim Alekseenko (Ukraine) | 7-5, 7-5 |
| 5 | Dmitry Myagkov (Russia) | def. | Felix Hutt (Germaney) | 6-4, 6-1 |
| 6 | Kristan Lozan (Russia) [3] | def. | Nikolay Vylegzhanin (Russia) | 6-3, 6-1 |
| 7 | Ergi Kirkin (Turkey) | def. | Shahzad khan (Pakistan) | 6-2, 6-4 |
| 8 | Muhammad Abid (Pakistan) | def. | Muzammil Murtaza (Pakistan) | by 6(5)-7, 6-3, 6-0 |
Men's Singles - 2nd Round
| | | | | |
| --- | --- | --- | --- | --- |
| 1 | Enrique LOPEZ-PEREZ (Spain) | def. | Ergi Kirkin (Turkey) | 7-5, 6-3 |
| 2 | Julian Onken (Germany) [6] | def. | Muhammad Abid (Pakistan) | 6-0, 6-1 |
| 3 | Kristan Lozan (Russia) [3] | def. | Kelsey Stevenson (Canada) | 5-7, 6-0, 6-0 |
| 4 | Luka Pavlovic (France) | def. | Anurag Newani (India) | 6-4, 6-2 |
| 5 | Shalva DZHANASHIA (Russia) [5] | def. | Kunal Anand (India) | 6-0, 6-2 |
| 6 | Pere RIBA (Spain) [4] | def. | Samir Iftikhar (Pakistan) | 6-4, 6-2 |
| 7 | Ivan Nedelko (Russia) [1] | def. | Aqeel Khan (Pakistan) | 6-2, 7-6(1) |
| 8 | Peter GOLDSTEINER (Austria) [7] | def. | Dmitry Myagkov (Russia) | 7-5, 7-5 |
Men's doubles - 1st Round
| | | | | |
| --- | --- | --- | --- | --- |
| 1 | Alexander Lebedyn/Anton Chekhov (UKR/RUS) | def. | Muzammil Murtaza/Luka Pavlovic (PAK-FRA) | 5-7, 6-2, 10-8 |
| 2 | Ergi Kirkin/Nikolay Vylegzhanin (TUR-RUS) | def. | Aman Attique Khan/Yousaf Khalil (PAK) | 6-1, 6-0 |
| 3 | Ivan Nedelko/Shalva Dzhanashia (RUS) [3] | def. | Yasir Khan/Mohammed Wagas Malik (PAK-CAN) | 6-2, 6-3 |
| 4 | Jayesh Pungliya/Anurag Nenwani (IND) | def. | Ajay Pruttvi Nemakal/Paramveer Singh Bajwa (IND) | 6-2, 6-4 |
| 5 | Jatin Dahiya/Kunal Anand (IND) | def. | Vadim Alekseenko/Gleb Alekseenko (UKR) | 7-5, 1-6, 10-7 |