Top seeds through to second round of Begum Kulsum ITF Tennis Tournament
Top seeded players through to the second round except No. 8 seed Indian Jayesh Pungliya lost his match against unseeded French player Luka Pavlovic in straight sets on day two of Begum Kulsum ITF Futures Tennis Tournament.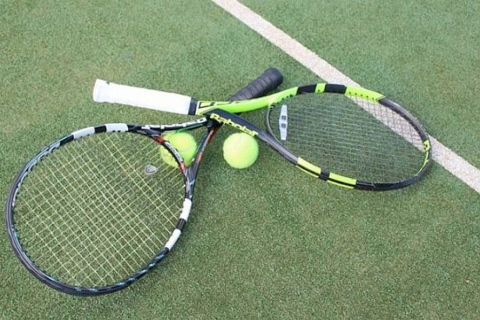 Begum Kulsum Saifullah - ITF Futures F2 Tennis Tournament
Syed Dilawar Abbas Pakistan Tennis Federation Complex, Islamabad
The day 1 of the tournament was washed out of heavy rain but only 8 matches of Men's singles first round were decided and 3 were interrupted with the bad light due to foggy weather on day 2 of Begum Kulsum ITF Futures Tennis Tournament.

Samir Iftikhar in his round 1 match outsmarted Indian Jatin Dahiya in straight sets by 6-0, 6-0. In another match, Russian 5th seed player Shalva DZHANASHIA outclassed Pakistani wild card holder Mohammad Abid Ali Khan Akber in straight sets by 6-0, 6-0.

Pakistani Ace Aqeel Khan defeated Indian rival Paramveer Singh Bajwa in a match of 3 sets by 6-3, 4-6, 6-3. No. 4 seed Spaniard Pere Riba ousted qualifier from Singapore Roy Hobbs in straight sets by 6-0, 6-1. In another encounter unseeded French player Luka Pavlovic knocked out No.8 seed Indian player Jayesh Pungliya by 6-2, 6-1.

Heera Ashiq from Pakistan gave hard time to his Canadian opponent Kelsey Stevenson and lost the 3 set match by 7-6(3), 6(4)-7, 6-1, 1-6. In the first set Heera started off well and took straight point but Canadian player breaks his 3rd serve to take 2-1 lead. Heera fought well and broke the 10th serve of Kelsey Stevenson to equalize the game on 5-5 and on 6-6 match was set on tie break. On tie break's 1st game Heera took 1st point but leveled by Kelsey and after that Heera earned 3 back to back points to take 4-1 lead. Kelsey breaks Heera's serves one more time and reduced the lead to 4-2 but one last time Heera broker the serve of Canadian player and won the 1st set by 7-6(3).

Both the players started the second set consciously but Heera Ashiq broke the 9th serve of Kelsey Stevenson and takes lead 5-4 but Stevenson broke back the next serve and level the game 5-5. At 6-6 tie break Heera won 4 back-to-back points and he was very near to get the second set but Canadian player came back from behind and won next 6 points and won the second set 7-6(4). The 3rd set was one sided as Stevenson came out of his shell and with his aggressive shots Heera went completely on back foot. In the 3rd set Stevenson successively broke the 1st and 3rd services of Heera. Pakistani player only managed to earn one point in the last set and Kelsey Stevenson won the match by 7-6(3), 6(4)-7, 6-1.

Top seeded Russian Ivan Nedelko won the match against his countryman qualifier Anton Chekhov and in the last match of the day German No. 6 seed Julian Onken defeated qualifier Ahmed Choudhary from Pakistan in straight sets 7-6(5), 6-2 in 1 hour 44 minutes.
2 matches were interrupted by bad light in the evening will be completed tomorrow. Indian Anurag Nenwani was playing with Oleg Besednikov while Muzammil Murtaza was playing with Muhammad Abid and Indian Kunal Anand was playing against Ukrainian player Vadim Alekseenko.

Remaining 1st round of Men's singles and Men's double categories will start from 9:30am tomorrow.
Following are the results
Men's Singles - 1st Round

| | | | | |
| --- | --- | --- | --- | --- |
| 1 | Samir Iftikhar (Pakistan) | def. | Jatin Dahiya (India) | 6-0, 6-0 |
| 2 | Aqeel Khan (Pakistan) | def. | Paramveer Singh Bajwa (India) | 6-3, 4-6, 6-3 |
| 3 | Shalva DZHANASHIA (Russia) | def. | Mohammad Abid Ali Khan Akbar (Pakistan) | 6-0, 6-0 |
| 4 | Pere RIBA (Spain) [4] | def. | Roy Hobbs (Singapore) | 6-0, 6-1 |
| 5 | Luka Pavlovic (France) | def. | Jayesh Pungliya (India) [8] | 6-2, 6-1 |
| 6 | Kelsey Stevenson (Canada) | def. | Heera Ashiq (Pakistan) | 6(3)-7, 7-6(4), 6-1 |
| 7 | Ivan Nedelko (Russia) [1] | def. | Anton Chekhov | 6-3, 6-4 |
| 8 | Julian Onken [6] | def. | Ahmed Choudhary (Pakistan) | 7-6(5), 6-2 |