Aqeel, Shahzad through to Semifinal of Serena ITF Tennis Tournament
Duo of Aqeel Khan and Shahzad Khan after defeating Fariduni Bakhodur and Roy Hobbs in the quarterfinal of Men's doubles event, moves to semifinals of Serena Hotels ITF Futures Tennis Tournament.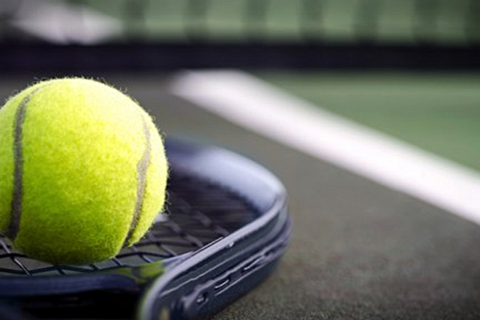 Serena Hotels - ITF Futures F1 Tennis Tournament
Syed Dilawar Abbas PTF Tennis Complex, Islamabad
Aqeel Khan/Shahzad Khan defeated the Tajik-Singapore pair of Fariduni Bakhodur/Roy Hobbs in straight sets by 6-1, 6-2. The Pakistani pair dominated throughout the match but Fariduni/Roy made too many mistakes to lose the game. They were only able to make 1 point in the second game but after that it was all Aqeel/Shahzad's show. The Pakistani pair twice break their serves in the 4th and 6th game to take the first set by 6-1. In the second set, Pakistani pair continue pressurizing the opponents as they once again break the serves twice in the 3rd and 5th game.
Fariduni/Roy managed to earn only 2 points I the second set and lost the match by 6-1, 6-2. The match lasted for only 50 minutes. In the first semifnal, Aqeel Khan and Shahzad Khan to take top seed pair of Spanish David Perez Sanz and Canadian Kelsey Stevenson tomorrow after 12:30 PM in the center court at Syed Dilawar Abbas Tennis complex, Islamabad.

In other Men's doubles matches Top seed David Perez Sanz/ Kelsey Stevenson defeated Russian-Ukrainian pair of Oleg Besednikov/Alexander Lebedyn by 6-0, 6-2. Second seed pair Peter Goldstiner/Julian Onken ousted pair of Asad Kabir/Yousaf Khalil by 6-1, 6-4 and Pera Riba/Luka Pavlovic down Vadim Alekseenko/Nikolay Vylegzhanin by 6-1, 3-6, 11-9.
Following are the Results:
Men's Doubles - Quarterfinals
| | | | | |
| --- | --- | --- | --- | --- |
| 1 | Aqeel Khan/Shahzad Khan (PAK) | def. | Fariduni Bakhodur/Roy Hobbs (TJK/SGP) | 6-1, 6-2 |
| 2 | David Perez Sanz/ Kelsey Stevenson (ESP/CAN) [1] | def. | Oleg Besednikov/Alexander Lebedyn (RUS/UKR) | 6-0, 6-2 |
| 3 | Peter Goldstiner/Julian Onken (AUT-GER) [2] | def. | Asad Kabir/Yousaf Khalil (AFG/PAK) | 6-1, 6-4 |
| 4 | Pera Riba/Luka Pavlovic (ESP-FRA) | def. | Vadim Alekseenko/Nikolay Vylegzhanin (UKR-RUS) | 6-1, 3-6, 11-9 |
Men's Singles - 2nd Round
| | | | | |
| --- | --- | --- | --- | --- |
| 1 | Ivan Nedelko (RUS) [1] | def. | Muzammil Murtaza (PAK) | 6-3, 6-4 |
| 2 | Samir Iftikhar (PAK) | def. | Julian Onken (GER) [6] | 6-1, 6-1 |
| 3 | David Perez Sanz (ESP) [2] | def. | Nikolay Vylegzhanin (RUS) | 6-1, 6-3 |
| 4 | Shalva Dzhanasia (RUS) [5] | def. | Muhammad Abid (PAK) | 6-3, 6-3 |
| 5 | Pere Riba (ESP) [4] | def. | Roy Hobbs (SGP) | 6-1, 6-0 |
| 6 | Peter Goldsteiner (AUT) [7] | def. | Kelsey Stevenstone (CAN) | 6-2, 6-2 |
| 7 | Alexander Lebedyn (UKR) [8] | def. | Oleg Besednikov (RUS) | 6-0, 6-2 |
| 8 | Kristian Lozan (RUS) [3] | def. | Gleb Alekseenko (UKR) | 6-1, 6-2 |