Dzhanashia downs Abid in the second round of Serena ITF Tennis Tournament
No. 5 seed Russian Shaiva Dzhanashia defeated Pakistan's No.2 M. Abid in straight sets to reach in the quarterfinal of Serena Hotels ITF Futures Tennis Tournament.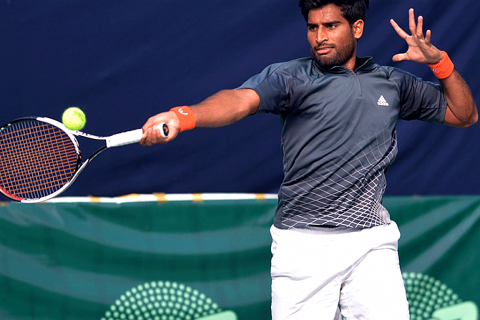 Serena Hotels - ITF Futures F1 Tennis Tournament
Syed Dilawar Abbas PTF Tennis Complex, Islamabad
Pakistan's No. 2 seeded M. Abid failed to move into the quarterfinals after the straight set 6-3, 6-3 defeat from Russian Shaiva Dzhanashia. The match lasted for 1 hour and 33 minutes. Abid made too many mistakes that costs him 1st set defeat. Russian player dominated the 1st set completely but on the 8th game of 1st set, Abid breaks the serve to make score 6-3 but Dzhanashia broke back the service and won the next game to win the 1st set by 6-3.

Abid made same mistakes in the 2nd round and he was given too many chances by his opponent but he could not make the things right for him. Abid broke the 7th game of second set to make 4-3 but once again Russian broke back very next game and easily won the second set 6-3.

Shaiva Dzhanashia tomorrow will face Spanish 2nd seeded David Peraz Sanz in Court No 4 at 11:00 AM in the fourth quarterfinal of the Men's singles event.