Samir seals quarterfinal berth of Serena ITF Tennis Tournament
Samir Iftikhar outsmart no. 6 seed German Julian Onken in the Men's Singles second round match of Serena Hotels ITF Futures Tennis Tournament at Syed Dilawar Abbas Tennis complex, Islamabad.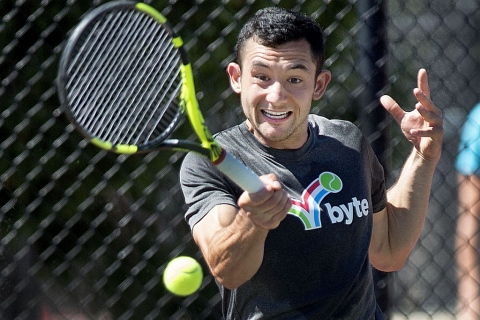 Serena Hotels - ITF Futures F1 Tennis Tournament
Syed Dilawar Abbas PTF Tennis Complex, Islamabad
Young and enthusiastic Samir Iftikhar comfortably defeated German opponent in straight sets by 6-1, 6-1. The German player made too many errors and had no answers of Samir's powerful strokes. Pakistani player allowed Onken no opportunities to get comfortable as he played at his will in the 78-minutes encounter.

Samir started the match confidently as he broke the opening serve by the German who made double-fault error twice in the first game. Samir maintained the pressure throughout the set as he won all of Onken's serves. The only winning moment in the first set for the German came in the 4 game when he broke the second serve of Samir. The second set started with a similar story as Samir broke the German in the 2nd game but Onken broke back in the very next game to make it 2-1. Samir then came back strongly in the very next game as the spectators witnessed 3 back-to-back breaks. Samir won the second set 6-1 also and through to quarterfinal of the tournament.

It is to be mention here that Samir Iftikhar is 1543 ranked player in the ITP circuit and he outsmarted 782 raked German Julian Onken in the second round match. Samir Iftikhar now to face 4th seed Spanish player Pere Riba and the match starts at 11:00 AM tomorrow. The German player in 1st round defeated Pakistan's No.1 Aqeel Khan and downs Singapore's Roy Hobbs in the second round.

A large number of crowed, former tennis players, President Tennis Federation senator Saleem Saifullah Khan and Senator Dilawar Abbas were also present at the center court of Dilawar Abbas Tennis complex and all of them cheered Samir on his beautiful display of game.