Shamsi Tennis Academy
Shamsi Tennis Academy is offering professional tennis coaching for competition and leisure in Phase 2, DHA Karachi, Pakistan.
A mix of coaching, mentoring, technology and professionalism, Shamsi Tennis Academy's aim is to provide an extraordinary tennis facility based on international standards. Focus on coaching, mental and physical development under international involvements such as lessons by international players.
Nameer Shamsi is currently the Program Director and founder at one of the top tennis academies in Pakistan, The Shamsi Tennis Academy.The only ITF Level 2 Certified Coach in Karachi, Nameer Shamsi has pursued tennis since the age of 11, and was Pakistan's Number 1 Tennis Player Under 13-16 between 2008-2010. He's living his passion and we hope you find the courage to live your passions too.

Hours:
Monday to Friday:
3:00 PM - 5:30 PM
Saturday to Sunday:
8:00 AM - 11:00 AM
Phone#:
0334 3997445
Address:
Phase 2, DHA Karachi, Pakistan.
Facebook:
@ShamsiTennisAcademy
Following are the Amateur Programs: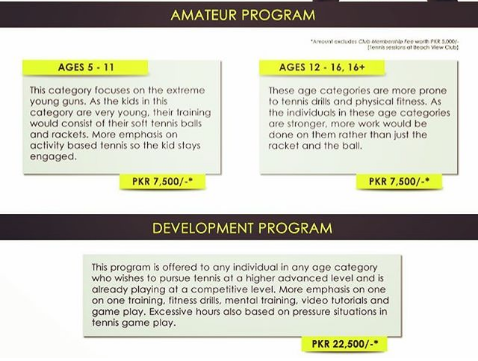 Contact Information:
Contact Person:
Nameer Shamsi ( president)