Ahmad Khan Lodhi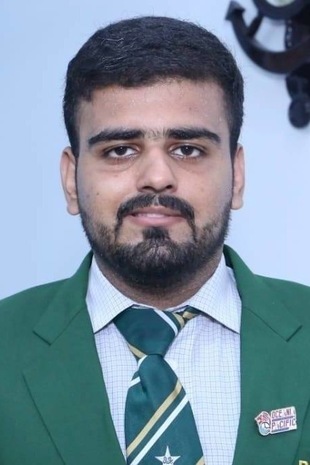 Achievements
2019:
Awarded as "Lyallpur Youth Award" in Lyallpur Youth Summit 2019.
Awarded as "Star of UAF" by Jamiat UAF 2019.
2018:
University (UAF) unbeatable Weightlifting and Tug-Of-War Champion 2014-2018.
Awarded as "University Color Award" by DOS, UAF.
2017:
Asia/Oceania Powerlifting Gold medalist 2017.
Became first Pakistani to achieve the title of Asian Junior Champion in Power-Lifting.
National Junior Champion Pakistan 2017.
All Punjab Powerlifting Champion 2017.
2013:
Punjab College Tug-of-war Champion 2013.
Ahmad Khan Lodhi's Profile
Age (Years): 24
Sport: Weightlifting
City: Pak pattan sharif
Weight(Kgs): 114
Clubs:
Samnabad Weightlifting Club Faisalabad
Teams:
1. Pakistan National Powerlifting Team

2. Higher Education Commission (HEC)
3. University of Agriculture Faisalabad (UAF)
4. Samnabad Weightlifting Club Faislabad
5. Punjab Group of Colleges
Biography:
Ahmad Lodhi hails from Faisalabad and is an incredible Powerlifter who have held high Pakistan's flag at various international platforms.
Ahmad is a resident of a small district of Punjab, Pakpattan Shareef famous for the holy shrine of Baba Fareed ud din Masood Ganjshakar R.A
The youngster, Ahmad has done his schooling and college from home town Pakpattan and after this, for higher studies, he moved to Faisalabad and got his MSc in Agriculture from the University of Agriculture Faisalabad(UAF).
Ahmad belongs to a rural background and father is landlord by profession so the family expenses depend upon the agriculture earnings.
In Faisalabad, after seeing his outstanding performance in power games ( Tug.of.war, weightlifting and wrestling) his university's coach forwarded him to Samnabad weightlifting club Faisalabad.
He was raised by the best coaches of Pakistan: Muhammad Ilyas butt(Pakistan National team coach) (WAPDA) and Ashfaq Butt ( National champion WAPDA).