Qasir Manzoor Mughal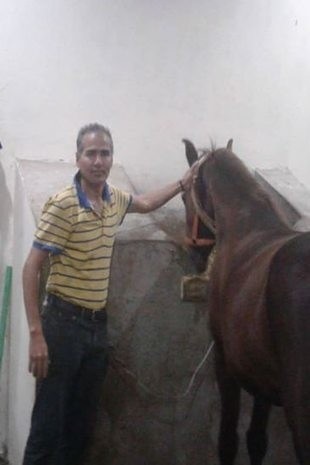 Achievements
1) Rawalpindi Board Record Holder for " Long Races - 5000 meter Race " 1999 and even with 21.15.66 points still in 2020 is the highest Record of an individual along with team.
2) Rawalpindi Board Record Holder for " Cross Country - 30000-meter race " 1st Position 1999 - 2000
3) Governament Intermediate College Taxila: 1st Position - Athletics 5000 meter Race - 1999 - 2000
4) Governament Intermediate College Taxila- 1st Position - Athletics " Cross Country - 30000 meter Race " 1999 - 2000
5) Governament Intermediate College Taxila Kabbadi Caption Win 1999 - 2000
Qasir Manzoor Mughal's Profile
Age (Years): 40
Sport: Horse Racing
City: Rawalpindi
Weight(Kgs): 50
Clubs:
Qureshi Tent Pegging Club Islamabad
Biography:
After trying Kabaddi and Jamnasitc, Rider Qasir Manzoor Mughal has been practising with his horse to become the superfluous tent pegger and the best horse racer.
Rider Qasir Manzoor Mughal is getting training from Ustad Arif. Qasir belongs from Rawalpindi, commonly known as Pindi, is a city in the Punjab province of Pakistan.
Qasir told to 'Khilari.pk':
"His objective is to become the best Tent Pegger and the best Horse Racer on an International level even in all to the provinces and previous games records are only the different phases to become the perfect HORSE RIDER - this is the practice journey of a horse rider."
Educational Accomplishments:
Government Intermediate College Taxila: 1st Position in Intermediate in College with highest marks.
University of Engineering and Technology Taxila 1st Position in Software Project Competition - 2001.
3rd Position in Punjab Board of Technical Education, Lahore ( PBTE, Lahore "in DIT ( Information Technology and Computer Science " in All Pakistan from Wah Cantt -2001 ( with 1330 marks ).
Punjab Police 1st Software Project done in the history of Pakistan from Wah Cantt in 2001.
CSS 2011 -2012 appeared for ASP position still on the list to attain as Teacher dong job and currently enrolled for LLB from Punjab University 2020 enrolled student of Law.
MBA - with specialization in " PROJECT Management " specialization as MBA - HR - AIOU, Pakistan - 2009.
Working on self-based Project to make along with international horse riding clubs the Largest horses and horses related event Count in the Domain of Pakistan where Competition from Sattelite for the rest of world we can record and even from this ground Pakistan Can become the Leader in the industry of Horses.
Professional Career:
Teacher with 15+ Years in different Colleges / Universities and even Online International teacher especially at USA states.
Nasheman School and College for Special Education Wah Cantt" Computer Teacher " / + Game incharge 2003 to 2010.
CSS - ( FPSC ) 2011 -2012 " TEACHER" for multi subjects - subjects.
Special Teacher in Wah Cantt as Computer Teacher of Special Students ( Hearing / Visual / Physical Impaired ) and even was Games head of the same college up to 2nd Year.
Teaching at MCCS ( Modern College of Commerce and Science ) Rawalpindi.
As teacher Author of ANE - applied natural engineering on an international level:
And even as teacher writing Thesis on the creation , and innvention of one of new branch of Engineering under Natural Sciences which branch name is ANE - " applied natural engineering " As each invention and innovation ever is collective efforts of humans so that is why follwoing official organizations are fully functional along me for all sort of theoratical and practical work out here organizations names are given even along the details of the particular person for participate as in the Branch of ANE i am inventing and writing the scientific laws and rules and regulations of one of new Branch of Engineering so that is why even here i am presenting the Human Future Technology which detail along follwing i am on the way to Done.
UET, Taxila: DEAN UET Taxial.
Haaven Carlson: Administrative Assistant Human Resources ( EOU )
Qasir said player can make the most effective and the most efficient game plans for National and even Internaional level if his education is also on the way to attain a high position.

" Best Player can be the Best Student"