Farzana Batool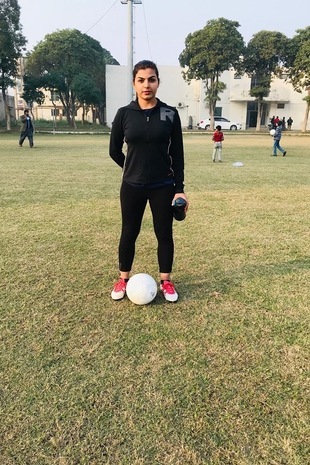 Achievements
From 2007 to 2014 she played all major domestic matches in the football season.
Besides making a name in football, she competed in basketball at the National Games in 2015-16 where her team clinched a silver medal.

In 2017 Farzana won the 'Most Courageous Player' Award due to display superb football skills at the Australian Football League (AFL) while playing for Pakistani team.

Farzana has been one of the stars of AFL Inter­national Cup 2017
Her skills and determination have won her Shaheens IC17 Most Courageous Player Award.
Farzana Batool's Profile
Age (Years): 27
Sport: Football
City: Chakwal
Weight(Kgs): 60
Clubs:
Club Shaheen Sporting and Social Club at Melbourne
Teams:
Pakistan Football(National Team)
Higher Education Commission(Departmental Team)
Biography:
A passionate footballer Farzana Batool represents Pakistan in various international tournaments and has won numerous awards for the nation.
She would also do best at athletics, archery, shooting and chess whenever she was a contest came her way.
Farzana belongs to Sadwal, a tranquil village located some eight kilometres away from Chakwal city.

Farzana Batool was in her third grade at village school when she built up her enthusiasm for games.
Now studying at the University of Sargodha, where she is currently pursuing her MPhil in social work, Farzana continues to represent her varsity and the Higher Education Commission in the domestic football matches.
She also gives a ton of credit in her prosperity to her mentor the head trainer at YRS Shahid Ahmed Khan, another of her mentors Gohar Habib Nangiana, and cricketer Awais Zia who likewise hails from Chakwal.