Mahoor Shahzad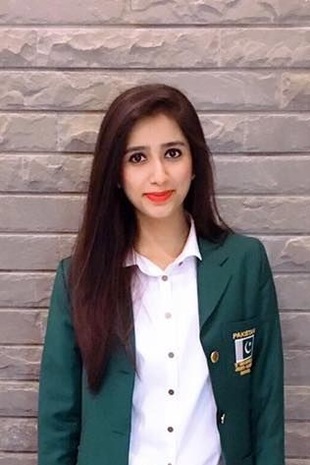 Achievements
Mahoor Shahzad produced a stunning display in the final of Yonex Sunrise Pakistan International Series 2019 to win the women singles title.
Mahoor is the only Pakistani player among the 20 players selected from Asia to be a part of the program that prepares potential players for the Olympics.
Mahoor Shahzad win Annapurna Post International Corporate Badmintion 2018 in Kathmandu, Nepal.
The Karachi-predicated badminton player won the 2017 Pakistan International Tournament of badminton. She has withal taken part in the 2014 Asian Games and 2018 Commonwealth Games.
IBA university awards special "Excellence of Sport Award" to Pakistan Badminton No 1 Player Mahoor Shehzad at IBA Convocation 2018.
Mahoor gained a rank in top 200 Badminton players, which is first for any Pakistani player.
Mahoor Shahzad's Profile
Age (Years): 25
Sport: Badminton
City: Karachi
Weight(Kgs): 58
Teams:
Pakistan National Badminton Team
Biography:
The Karachi-born Mahoor Shahzad is a 21-year-old Pakistani badminton athlete. Mahoor Shahzad was the champion of women's singles at the 2017 Pakistan International tournament. She also has competed at the 2014 Asian Games.
She also participated in the Asian Games 2018, where She had an exquisite match with world no 1, She scored 21-14 and 21-17.
She is the uprising aptitude of Pakistan's sports side, thus Islamabad Says pays her an unprecedented salute on getting Green firmament high.
Highest World Ranking:
192(WS 8 November 2018)
246 (WS 23 March 2017)
405 (WD 27 October 2016)
753 (XD 24 November 2016)
National Rank: Pakistan no 1 badminton player
Coaches:
Raziuddin Ahmad (National)
Tayyab Sohail (National)
Iftikhar Hussain
Ali Mehdi