Muhammad Ali Larosh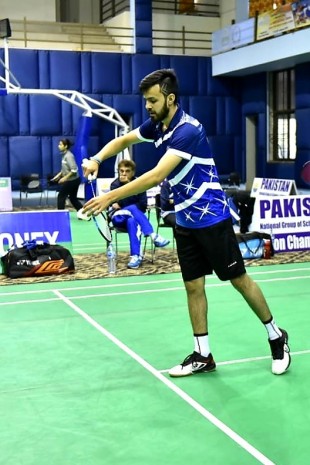 Achievements
Badminton single event Runner up in All Pakistan Ranking tournament held in 2019 held in Peshawar.
Winner of (Double) Asian youth games Colombo 2017.
Played Semi Final of Single in Asian Youth Champion 2017 Held In Sri Lanka.
Played Semi Final of Doubles in All Pakistan Ranking Tournament 2018.
Played Semi Final of Mix Doubles in 56th National Badminton Championship 2019 held in Lahore.
Participated in Dubai international challenge 2018.
Winner of (Doubles) 4th inter provincial games in Peshawar 2018.
Played Quarter Final of (double) in National Championship 2017.
Winner of (Single/Double) Islamabad open Badminton tournament (2016).
Winner of (Double) All Pakistan Syed Iqbal Bukhari Open Badminton Tournament (2016).
Runner up (Double) CDA margalla Festival (2017).
Winner of (Single/Double) Punjab Open Tournament (2017).
Winner of Single/Double in grand open twin city Badminton Championship 2017.

Muhammad Ali Larosh's Profile
Age (Years): 27
Sport: Badminton
City: Islamabad
Weight(Kgs): 73
Biography:
Promising player Muhammad Ali Larosh is an professional badminton player who is working for Sui Northern Gas Pipelines Limited (SNGPL).
Larosh, who hails from Kohat is representing Pakistan in National and International events.
Larosh is currently ranked no 5 in men's doubles and no 8 in men's singles as per ranking 2019 published by Pakistan badminton federation 2019.