Islamabad to host International badminton series from Tuesday
Islamabad Badminton Association to host Yonex - Sunrise Pakistan International Series 2017 from 9 to 12 November 2017 at Liaquat Gyamnasium, Pakistan Sports Complex, Islamabad. 29 international players from 10 countries will participate in the event.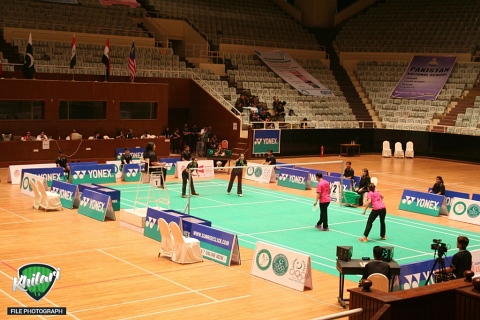 YONEX SUNRISE Pakistan International Series 2017
Liaquat Gymnasium, Pakistan Sports Complex
According to secretory Pakistan Badminton Federation Wajid Ali Chaudhary, 29 international players (men and women) of 10 different countries will participate in the event including the hosts Pakistan.
Players from following countries will participate:

Pakistan
Afghanistan
Maldives
Turkey
Vietnam
Cambodia
Srilanka
Syria
Taiwan
Nepal


The price money of the tournament is US$ 8,000. Event in-charge and development director Asia will also be present during the international series. It's going to be the grade-4 tournament and there are bright chances that in future Pakistan will get the tournament of higher ranks. Wajid Ali Chaudhry further said that we are going to organize 5 international tournaments in future and the federation is also planning to organize under-15, 17 and under 19 events as well.

Players will participate in 5 different categories.

Men's Singles
Women Singles
Men's Doubles
Women Doubles
Mixed Doubles


24 entries in each of the Men/Women singles and doubles have directly entries for the main round of 32 while 8 players will get their ticket through qualifiers. Mixed doubles will be contested by a draw of 16, of which 12 entries will directly play in the main round while 4 will come after playing qualifying round.

Qualifying and Main draws will be conducted on Wednesday 9th November whereas, main round matches in Men/Women singles, Men/Women doubles and Mixed doubles will start on same day. Semifinal will be played on Saturday 11th November while Final for all the categories will held on Sunday 12th November 2017.

Winners of Men/Women competitions will get US$ 600 while runner-ups will get US$ 304. Winners in Men/Women categories and Mixed doubles will awarded by US$ 630 and the runner-ups will get US$ 304 each.

Accommodation of all the players is arranged by Badminton Federation in Allama Iqbal International Hostel, Pakistan Sports Complex Islamabad.