FIFA World Cup 2026 Qualifiers: Saudi Arabia outclass Pakistan by 4-0
Pakistan put on a good show in the first half, conceding only one goal.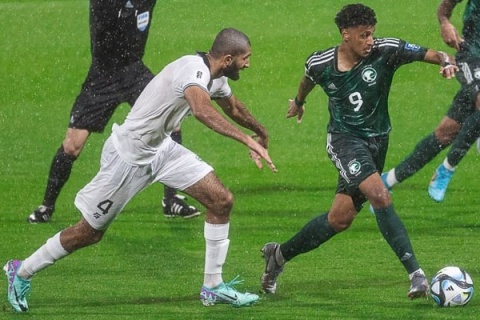 In the opening match of Group G for the 2026 FIFA World Cup Qualifiers second round, Saudi Arabia clinched a commanding 4-0 win over Pakistan at Al-Fateh Stadium in Al-Hasa.
Pakistan showed early resilience in the first half, conceding only one goal. However, Saudi Arabia dominated the latter half, securing three additional goals to secure a comprehensive victory.
Saleh Al-Shahri provided Saudi Arabia with an early goal in the 6th minute and later in the 48th minute on the penalty kick, followed by Abdul Rahman Ghareeb in the 91st minute and Abdullah Radif in the 96th minute.
Saudis had complete control, holding the maximum possession in the match i.e. 77%, total shots on target were 8 as compared to just 1. It is also to be noted that it was Pakistan's debut in the second round of the Asian Qualifiers. Next, Pakistan will face Tajikistan in Islamabad on November 21, while the remaining matches will be played in March and June next year. The top two teams will advance to the third round of qualifiers.