FIFA WCQ Round 2: Pakistan vs Saudi Arabia
Pakistan faces the 6-time FIFA World Cup Qualifier Saudi Arabia today in Al-Hasa, marking our debut in the 2nd round of 2026 qualifiers.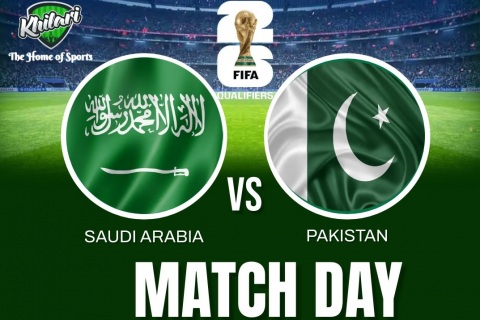 History in the making !!!
Pakistan will face the 6-time FIFA World Cup Qualifier Saudi Arabia today in Al-Hasa, making its debut in the 2nd round of 2026 qualifiers. Jordan and Tajikistan are the other teams in Pakistan's group. These four teams will play against each other on a home and away basis and then the top two nations will progress to the third round. The match is set to take place at Prince Abdullah bin Jalawi Stadium at 9:30 PM (PST). Pakistan and Saudi Arabia last played each other in 1978, when Pakistan lost 6-0.
Manager Stephen Constantine acknowledges the challenge, stating, "Saudi Arabia is a tough side, and we'll give it our best shot with the limited preparation time we've had. Our focus is on delivering our best performance."
In a press interaction, Constantine highlighted the team's short preparation time but expressed confidence in their readiness after a week of training in Islamabad. 'We've had a few good days, and hopefully, we'll put in our best effort,' he added.
Saudi Arabia's Italian coach, Roberto Mancini, countered with equal determination, stating, "It's our first official game in the qualifiers, and the first game is always difficult. We are ready, and despite recent setbacks, we won't underestimate Pakistan." Mancini, at the helm since last August, emphasized the importance of this match as both teams gear up for a highly anticipated showdown on the football stage.

Goalkeepers: Yousuf Butt, Salman-Ul-Haq, Hassan Ali; Defenders: Abdullah Iqbal, Haseeb Khan, Mamoon Moosa Khan, Mohibullah, Muhammad Sohail, Muhammad Saddam, Junaid Shah, Rao Umar Hayat, Muhammad Hamza Munir; Midfielders: Rahis Nabi, Alamgir Ghazi, Rajab Ali, Ali Uzair, Imran Kiyani, Harun Hamid; Forwards: Shayak Dost, Otis Khan, Fareed Ullah, Abdul Samad Arshad, Muhammad Waleed Khan, Adeel Younas.
Officials: Stephen Constantine (head coach), Rogerio Ramos (goalkeeper coach), Claudio Altieri (performance coach), Muhammad Ali Khan (manager), Azam Khan (doctor), Muhammad Abdullah (physio), Haider Ali (media), Abdul Qayyum (masseur).
Qatar's Alkass Sports Network will broadcast the match for television (TV) sets while 'Shoof' app will live stream the match on mobile and web.