Pakistan beat Cambodia in first-ever football World Cup qualifying win
Pakistan won their first match in five years and advanced to the second round of World Cup qualifiers.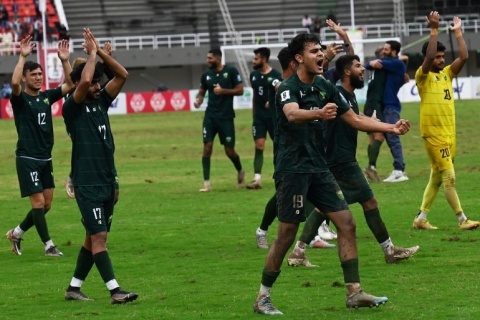 Pakistan's men's football team have made history by advancing to the second round of World Cup qualifiers after beating Cambodia 1-0 in Islamabad.
It was the first time the national team won a qualifying game, setting off wild celebrations on the pitch and in the stands at Jinnah Sports Stadium in the Pakistani capital on Tuesday.
After the first leg in Phnom Penh finished 0-0, a 67th-minute half-volley from Harun Hamid was enough to secure victory in the first home game for Pakistan since 2015.
They will face Saudi Arabia, Tajikistan and Jordan in the second round, which begins in November.
The South Asian nation, ranked 197th in the world, had not won an international match since 2018 and were banned by FIFA in April 2021 for 15 months because of "undue third party interference" – their second ban in four years.
Last week, Englishmen Stephen Constantine was named as the new coach of the team and tasked with ending their dire run – a 13-match losing streak.
After not playing an international game since June 2019, Pakistan played eight matches between November 2022 and June 2023, including five friendlies, but lost them all – conceding 18 goals in the process and scoring just one.
Constantine, appointed by the FIFA-led Normalisation Committee (NC) currently running the Pakistan Football Federation (PFF), previously coached India's national team. He led India from a rank of 173rd in 2015 to 97th in December 2018, while also helping them qualify for the 2019 Asian Cup.