Double crowns for Hanan, Amna in Servis Tyres Junior National Ranking Tennis Championship 2021
Abdul Hanan Khan and sensational Amna Ali Qayum claimed the double crowns in their respective categories of the Servis Tyres Junior National Ranking Tennis Championship 2021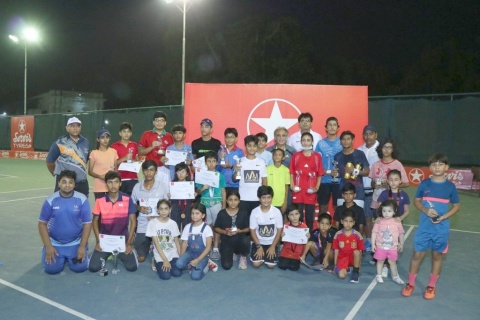 Emerging player Abdul Hanan Khan and sensational Amna Ali Qayum claimed the double crowns in their respective categories of the Servis Tyres Junior National Ranking Tennis Championship 2021, which concluded successfully at the PLTA Courts, Lahore.
Abdul Hanan Khan thrashed Hamid Israr (w/o). In the boys U-16 final, Abdul Hanan Khan exhausted Huzaima Abdul Rahman (w/o).
In the girls U-18 final, Amna Ali Qayum overpowered Shimza Naz Durab 6-3 (rtd). In the girls U-14 final, Amna Ali Qayum whiped Labika Durab 6-1, 6-2.
The boys U-14 final was a treat to watch as both Ahtesham Humayun and Asad Zaman (McDonald's) played superb tennis against each other and fought for each and every point till the end. In the end, it was Ahtesham who managed to hold his nerves and overcome spirited Asad with a score of 6-4, 7-5, 10-7, thus clinched the title.
In the boys/girls U-12 final, Hamza Roman register win over Abubakar Talha (WAPDA) 5-4, 4-5, 4-0.
In the boys/girls U-10 final, Abdur Rehman ousted Fajar Fayyaz with the final score line of 4-0, 4-0.
In the boys U-14 doubles final, Asad Zaman/Ahtesham Humayun beat Abubakar Talha/Ameer Mazari 4-1, 4-0.
In the boys/girls U-12 doubles final, Abubakar Talha/Umer Jawad overwhelmed Hamza Roman/Amir Mazari 4-1, 3-5, 10-2.