Kashmir Premier League 2021 set to begin from 4th August
The six franchises of KPL will compete against each other at the Muzaffarabad Cricket Stadium from 4th to 14th August, 2021.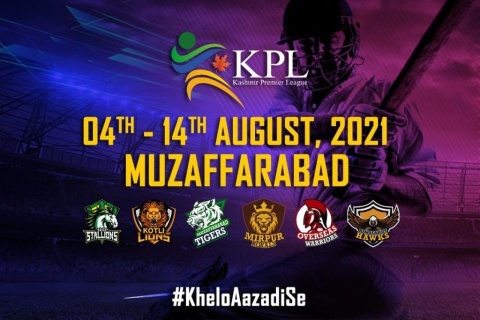 1st Kashmir Premier League 2021
Muzaffarabad cricket Stadium
Kashmir Premier League is a T20 league having credentials from the Pakistan Cricket Board (a permanent member of the International Cricket Council), the Government of Azad Jammu & Kashmir, and the Government of Punjab, Pakistan.
All these authorities have ensured their cooperation in this cause. KPL is coming up with a total of six teams, including Rawalakot Hawks, Kotli Lions, Mirpur Royals, Muzaffarabad Tigers, Overseas Warriors, and Bagh Stallions.
The teams will contest for a ten days major cricketing event scheduled from 4th August to 14th August 2021 at the Muzaffarabad Cricket Stadium, Muzaffarabad.
Recently, Mr. Arif Malik – President KPL, and Chaudhry Shahzad Akhtar – CEO KPL attended the Launching and Rebranding Ceremony of Kotli Lions.
The league is designed to provide the young Cricket talent of AJK with a quality platform through which they can showcase their skills to the world.
The involvement of Pakistani international players assists in raising the community spirit among the people of Azad Jammu & Kashmir.