Total Premier League Peshawar set to kick off from 22nd May
Total Football is all set to organise a Total Premier League Peshawar at the Garrision Park, Peshawar.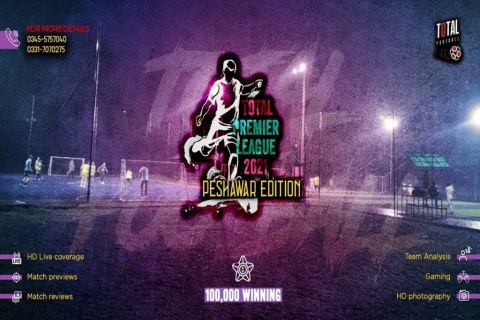 Total Football presents a one of a kind 'Total Premier League Peshawar' in Peshawar where six teams will battle it out to be crowned champions!
The above mentioned football bonanza will be played at the Garrision Park, Peshawar.
The Total Football League will be a comprehensive season, which will give a platform to teams to showcase their skill and become champions. Each team will play two matches against each other and teams will relegate as well.
It is a six a side tournament where each team is allowed to have a squad between 15-20 players and all the matches will be played under standard Football rules.
The league will offer something very unique for the first time in ametuer football.
~ Live HD aerial coverage of premier league
~ Team analysis and profiling
~ Match reviews and previews from our studio
~ Close monitoring of team stats and player attributes
Follow the link below for registration in the league:
https://docs.google.com/forms/d/e/1FAIpQ
For any query these cell numbers can be contacted: 03455757040 or 03317070275.
Enchanting prizes for of title winner team and the runner up teams are one of the many attractions of this football league. While the most goal scorer and Man-of-the-match will also be getting awards.
Total Football aims to promote the spirit of football and sportsmanship for which it is arranging a healthy and athletic competition. Apart from the non-stop footballing bonanza, participants will be updated about the essential footballing stats by their staff as well.