Reads claims Quaid-e- Azam Day Champions League 2020-21 title
The Reads won the Football Champions League 2020-2021 after an exciting match played at Karachi University football ground.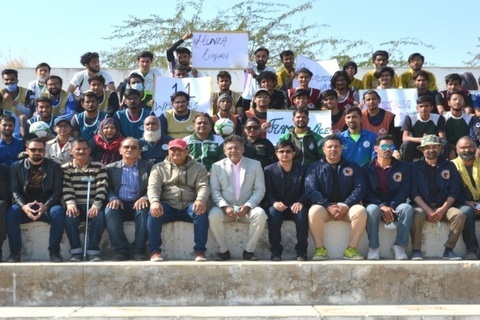 The Football Champions League 2020-2021, conducted at Karachi University football ground, wad organized by PMFA with the collaboration of Sindh Games Association and Karachi University Sports Department on the occasion of Quaid-e-Azam Day.
The event was sponsored by Mamjees Studios, Global Travels and DEWA Trust.
Mr. Zuhair Ali Lodhi, Organising Secretary, and Syed Asrar-ul-Hassan Abidi, Director Event, had played vital role to make this event successful.
Sixteen teams participated in this league and, on the basis of points table, the final was played between Eleven Wonders and Reads.
The Reads won the Championship after an exciting match.
Mr. Ahsan Ahmed Qureshi & Akhlaq Bukhari were match referee while Mr. Ehtesham and Azizuddin performed as line referee.
Mr. Mudassir Arain (President-SGA), Rashid Qureshi (DPE, KU) and Bilal Ahmed Ghaffar (MPA) were Chief Guests and they distributed the Trophies and awards to the winning team.
Capt(R). Muhammad Ali Zafar(Chairmen-CFP), Sarim Mamjee (CEO-Global Travels), Anwar Chawla(Chairman Russian Culture Center), Ziauddin Siddiqui ( Administrator Russian Science and Culture), Nasir Moin Usmani (Senior Vice President-SGA), Mansoor Shahzad ( Secretary General-Sindh Archery Association) were the honorable guests in the closing ceremony.
Mr. Mudassir Arain, Chief Guest, expressed his pleasure during his address and said that SGA will extend their cooperation in future to support such appreciable events for youth on National Days.
Mr. Rashid Qureshi, Chief Guest, announced that he will whole heartedly support training camp conducted in Karachi University. Mr. Faisal Saleem, Afsheen Siddiqa, Obaid Bakali, Khawar Ahmed, Usman Zubair, Marium Khawar, Sadiq Abbas, Fariha, Aliza, Mesam Raza, Danish, Ali Raza Rizvi, Hafiz Mansoor Akhter, Fahim Askari, Muhammad Kazim and others were also present in the Ceremony.