Hoti Eagles snatch semifinal spot to join Sikandari, Khaksar, Mardan Khan in Mardan Premier League 2020
Hoti Eagles, Sikandari Kas Korona Stars, Khaksar City and Mardan Khas Tigers are set to compete in the semifinals of Mardan Premier League 2020.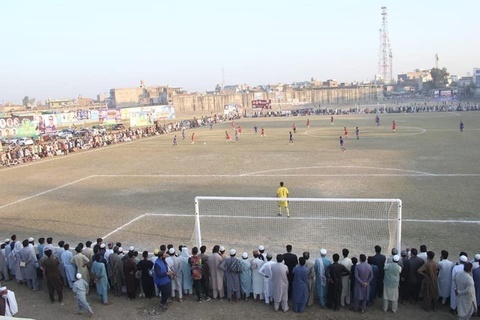 At the Younas Stadium Mardan, the 11th match of the Mardan Premier League (MPL) ended in a 1-0 win for the Hotis.
Hoti Eagles joined the 3 other teams comprising Sikandari Kas Korona Stars, Khaksar City and Mardan Khas Tigers.
With this win Hoti Eagles overtake Khaksar City in Group A Table by superior Points Table.
However, Takht Bhai Kings and Toru Mayar United who are now out of the league but they have won the hearts of the crowds by their attacking play and spirit of sportsmanship.
Eagles top the Group A table win this win with 6 Points (+1 Goal Difference & 4 Goals), followed by Khaksar City 4 Points (+1 Goal Difference & 3 Goals), Toru Mayar United 4 Points (0 Goal Difference & 2 Goals) and Takht Bhai Kings 3 Points (-2 Goal Difference & 1 Goal) are sadly out of the MPL.
The Group B table is topped by the Stars with 10 Points (+3 Goal Difference & 5 Goals) as Warriors management gave up their last league match followed by their Kalpani rivals, the Tigers, with 7 Points (+4 Goal Difference & 7 Goals), and Sheikh Maltoon Warriors are out and yet to score a Point (-7 Goal Difference & 2 Goals).
As the next match of Group B between the Stars and the Warriors is awarded to Stars so the Group B winners Sikandari Kas Korona Stars will face Group A runner's up Khaksar City on 5th November in the Knock Outs whereas the first Semi Final will be between Hoti Eagles and Mardan Khas Tigers on 4th November at 2 PM. The final will be played at Younas Stadium on 6th November (Friday) at 2 PM.
The Chief Guest in the presentation ceremony was Siyar Khan Mandoori, Ex-Hockey player and social figure. Regional Sports Officer was also present on the occasion. Pashto singer Irfan Jamal also came to the support of Eagles. The guests congratulated the MPL Chairman MPL Nawaz Mandoori, Executive Committee and Team Voice of Mardan for their arrangements and volunteer services for MPL.