Amir Khan clarifies comments about representing Pakistan in the 2016 Olympics
After facing a public backlash for his comments expressing his desire to represent Pakistan in the 2016 Olympic games held in Rio,Brazil.The star boxer clarified his remarks in an online video shared on his facebook profile.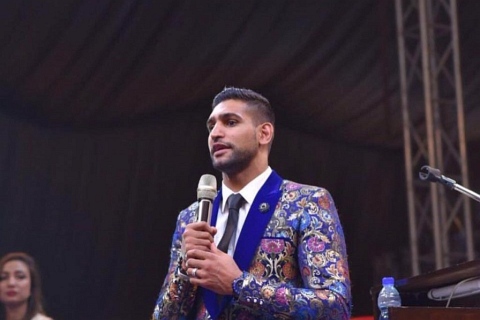 HBL Superstar Boxing Event
PC, Karachi
While in Karachi for the promotion and organization of the country's first ever International Boxing event which featured several international boxers namely:Tasif Khan,Gallagher Dayle,Jody Meikle,Stuart Maddox,Francis Peter Douglas Croes,Haroon Khan and Phil Townley.Amir was asked last Wednesday in a press conference if he would represent Pakistan in the Olympics following the AIBA's (International Boxing Association) decision to lift the sanction barring professionals from competing in the sport at Olympic Games.
He responded by saying that:
"It will help boxers and if I am permitted as per rules and from my promoter then I would love to compete for Pakistan. I will be very happy if I can compete in the Olympics. I want to serve Pakistan."
The Pakistani origin British boxer's remarks suffered a public backlash which saw him labelled a traitor by many of the sport's followers.The Bolton born star boxer took to popular social media platform 'Facebook' yesterday to defend his expression of desire to represent Pakistan at the 2016 Rio Olympics.He clarified that he was misquoted and his comments were taken out of context by the media and he had only considered the possibility because England already had a full team for the Olympics whereas Pakistan doesn't have a single boxer lined up for the mega-event which was a result of Pakistan Sports Board's (PSB) refusal to release funds for their long planned visit to China, where the Asia-Oceania Olympics qualifiers took place in March.
He further reminisced that he had only attained his current level due to his participation in the 2004 Athens Olympics which saw the then 17 year old take home a bronze medal for Britain in the lightweight boxing category as the country's sole representative in the sport.
"I (he) would feel bad taking someone's deserved place in the team…",he said.
And that:
"…I would never want to ruin someone's dream…"
He made clear that he was a proud British fighter and he has always represented his multicultural heritage as apparent by his shorts which show the British and Pakistani flag side-by-side.He further said:
"I always have represented Britain in all my fights and I always will."
It is also worth noting that Amir's brother Haroon Khan was banned in 2012 by The AIBA (International Boxing Association) for representing Pakistan in the World Amateur Boxing Championships which were a qualifier to the 2012 Olympics because he had represented England as a youth.