National T20 Cup 2020 Points Table after Match no.12
After the match. no 12, Northern are at the top of the table with the stunning 8 points, followed by Balochistan who won 4 out of 3 matches while Khyber Pakhtunkhwa is at 3 spot with 6 points.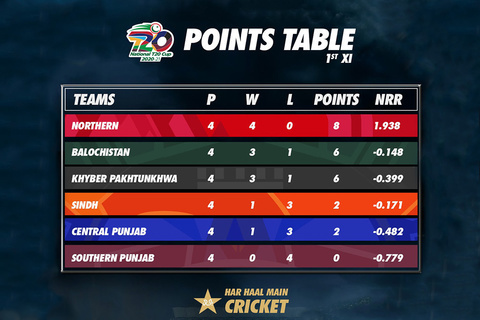 National T20 Cup 2020-21
Multan Cricket Stadium, Pindi Cricket Stadium
Northern are at the top of the table with the winning streak to four matches along stunning 8 points in the after the 12 matches of National T20 Cup for First XI teams played at the Multan Cricket Stadium.
Balochistan maintain the second spot in points table as they defeated Central Punjab by three runs in the 12th match.

Khyber Pakhtunkhwa is at 3rd spot with 6 points.
Sindh with 2 points are at 4th place while the Central Punjab with same points are at 5th spot and lost their way in the final stages of their chase.
Southern Punjab who played 4 matches & lost all of them are at the bottom of the points table.
LET HAVE A GLIMPSE AT National T20 Cup 2020 Points table After 12 matches:
| Teams | P | W | L | PTS | NRR |
| --- | --- | --- | --- | --- | --- |
| Northern | 4 | 4 | 0 | 8 | 1.938 |
| Balochistan | 4 | 3 | 1 | 6 | -0.148 |
| Khyber Pakhtunkhwa | 4 | 3 | 1 | 6 | -0.399 |
| Sindh | 4 | 1 | 3 | 2 | -0.171 |
| Central Punjab | 4 | 1 | 3 | 2 | -0.482 |
| Southern Punjab | 4 | 0 | 4 | 0 | -0.779 |
PSL 5 Points Table Glossary
P: The number of matches played
W: The number of won matches
L: The number of lost matches
PTS: The number of points awarded
NRR: Net run rate