Shahzaib Rindh – Reigning West Asia Kickboxing Featherweight Champion From Quetta
The man from Quetta, Shahzaib is one of the most versatile athletes to join the ONE Championship roster made his promotional debut on, 6 September 2019 when Shahzaib "King" Rindh steps on to the global stage.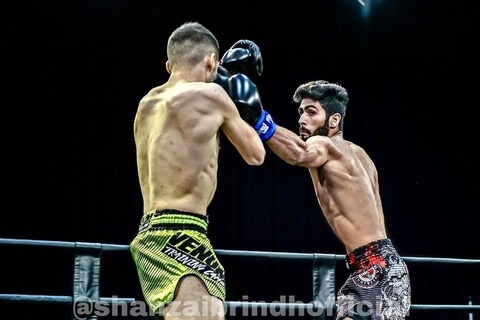 The journey from the mountains of Balochistan to ONE Championship professional fighter, Shahzaib Rindh is one of the most decorated martial artists from the proud city of Quetta.
Shahzaib Rindh started practicing martial arts at the age of only four and he has scored 69 victories, a sports scholarship at the prestigious BUITEMS and a contract with one Fighting Championship,
One of the most versatile athletes to join the ONE Championship roster made his promotional debut on, 6 September 2019 when Shahzaib "
King
" Rindh steps on to the global stage.
The man from Quetta, "King" aims to live up to his moniker by winning World Titles in ONE.
Rindh's journey began as a wayward youth in Quetta, a city near the Pakistan-Afghanistan border whose people, according to Rindh, are inclined toward conflict.
"They like fights, combat sports. As a boy, I was always fighting in the streets," he explains.
"I was an angry boy, I was a fighter, so my parents got upset with me. My parents sent me to a wushu Sanda club in an attempt to control my anger."
Rindh's older brother took him to the gym and attempted to teach the 9-year-old tearaway a lesson, in the hope, it would dissuade him from fighting.
"On my very first day in the gym, my brother made me fight with an older boy – a club champion," says Rindh.
"That boy really gave me a bad beating, even badly broke my nose. My brother didn't like me fighting, so that's why he tried to give me a very hard lesson."
Rindh's older brother's attempts at discouraging him from combat had quite the opposite effect. While most 9-year-olds would likely never set foot in a gym again after such an experience, Rindh was consumed by a desire to improve.
"At the time, I was very small, so when I came home after that first time, I looked at my broken nose and I realized I was not super powerful, as I had thought," the 31-year-old says.
"So, I started training immediately because I wanted to [learn how to compete with] that boy."
Within a year, he had learned enough to match his rival in sparring, and he showed enough promise to work towards competing.
While Rindh's older brother's plan of putting him off martial arts backfired, "King" says his family got behind him as he started his amateur career – even if it was a struggle, to begin with.
"We are not a rich family. In fact, I come from a poor background," he says.
"My father is a civil servant, my mother is a housewife, and my big brother is a student, so at the start, there were a lot of difficulties. When I went to [amateur] tournaments, I often had no money to cover my expenses. Sometimes my coach
Hafeez Toofan
supported me [financially].
"But I could bear this because I knew my family always supported me a lot [emotionally]. I got where I am because of them. My mother knows I'm involved in a very tough game and she doesn't like to see me get hurt, so she always prays for me. This gives me confidence."
Becoming A Champion
Rindh has enjoyed success in several sports but made his reputation in wushu sanda – a Chinese martial art that Rindh says has equipped him for any challenge in the world's largest martial arts organization.
"I chose to do wushu sanda [rather than a more famous martial art] because it's very popular in Quetta," he explains.
"It uses wrestling, kicking, boxing – everything is involved, so it's a very tough sport. Now, I am a [multiple-time] national champion, but I have also competed in kickboxing, boxing, and mixed martial arts, and trained in wrestling and taekwondo."
The representative of Willson Wushu Academy and Red Dragon gym has also represented his country in international tournaments and became a South Asian wushu champion, but for now, his focus is on his kickboxing contest in Ho Chi Minh City.
He has only competed once under these rules, but he won that bout, and he believes he will have no problem adjusting again when he steps into the ring on the global stage.
"Kickboxing and wushu sanda are much the same, only in wushu sanda, we also have throws. I have also competed in boxing, so it's not difficult [to compete without employing throws]," Rindh explains.