HBL PSL 2020 stats pack after 30 matches
Let's have a look at all details about most runs of PSL 5, wickets, sixes, highest total, catches and much more.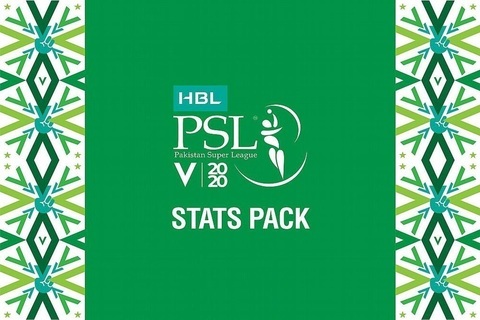 HBL Pakistan Super League 2020
Lahore, Karachi, Rawalpindi, Multan
The Pakistan Cricket Board (PCB) has postponed the Pakistan Super League (PSL) 2020 on the day of the semi-finals amid the coronavirus outbreak.
The two semi-final matches between Multan Sultans and Peshawar Zalmi, Karachi Kings and Lahore Qalandars have been cancelled for an indefinite period.
Let's have a look at all the details on PSL 5 stats:
MOST RUNS:
| Player | MAT | INNS | RUNS | SR | HS | AVE |
| --- | --- | --- | --- | --- | --- | --- |
| Babar Azam (KK) | 10 | 9 | 345 | 123.65 | 78 | 49.28 |
| Chris Lynn (LQ) | 8 | 8 | 284 | 179.74 | 113* | 40.57 |
| Ben Dunk (LQ) | 7 | 7 | 266 | 186.01 | 99* | 53.20 |
| Luke Ronchi (IU) | 8 | 8 | 266 | 156.47 | 85* | 38.00 |
| Shadab Khan (IU) | 9 | 8 | 263 | 159.39 | 77 | 37.57 |
MOST WICKETS:
| Player | MAT | INNS | RUNS | Wickets | BBI | ECON | AVE |
| --- | --- | --- | --- | --- | --- | --- | --- |
| Mohammad Hasnain (QG) | 9 | 9 | 256 | 15 | 4/25 | 8.96 | 19.13 |
| Shaheen Afridi (LQ) | 9 | 9 | 246 | 13 | 4/18 | 7.02 | 18.92 |
| Wahab Riaz (PZ) | 9 | 9 | 255 | 11 | 3/21 | 8.01 | 23.18 |
| Sohail Tanvir (MS) | 8 | 7 | 153 | 10 | 4/13 | 6.80 | 15.30 |
| Imran Tahir(MS) | 8 | 7 | 186 | 10 | 3/28 | 7.75 | 18.60 |
MOST SIXES:
| Player | MAT | INNS | 6s | BF |
| --- | --- | --- | --- | --- |
| Ben Dunk (LQ) | 7 | 7 | 23 | 143 |
| Chris Lynn (LQ) | 8 | 8 | 16 | 158 |
| Sharjeel Khan (KK) | 10 | 9 | 16 | 138 |
| Shane Watson (QG) | 9 | 9 | 16 | 157 |
| Colin Munro (IU) | 8 | 8 | 15 | 168 |
HIGHEST TOTAL:
| Team | Scores | OPP | RR | INNS | Date |
| --- | --- | --- | --- | --- | --- |
| Lahore Qalander | 209/5 | Quetta Gladiators | 10.4 | 1st | 03-03-2020 |
| Karachi Kings | 201/4 | Peshawar Zalmi | 10.5 | 1st | 21-02-2020 |
| Multan Sultans | 199/5 | Quetta Gladiators | 9.95 | 1st | 29-02-2020 |
| Islamabad United | 198/3 | Lahore Qalander | 9.90 | 1st | 04-03-2020 |
| Islamabad United | 195/5 | Peshawar Zalmi | 9.75 | 1st | 07-03-2020 |
MOST CATCHES:
| Players | MAT | INNS | CT | CT/INN |
| --- | --- | --- | --- | --- |
| Mohammad Nawaz (QG) | 9 | 9 | 8 | 0.88 |
| Tom Banton (PZ) | 7 | 7 | 7 | 1.00 |
| James Vince (MS) | 5 | 5 | 6 | 1.20 |
| Moeen Ali (MS) | 9 | 8 | 6 | 0.75 |
| Liam Livingstone (PZ) | 8 | 8 | 6 | 0.75 |
PSL 5 Points Table:
| Teams | MP | W | L | NR | PTS | NRR |
| --- | --- | --- | --- | --- | --- | --- |
| Multan Sultans | 10 | 6 | 2 | 2 | 14 | 1.031 |
| Karachi Kings | 10 | 5 | 4 | 1 | 11 | -0.019 |
| Lahore Qalandars | 10 | 5 | 5 | 0 | 10 | -0.072 |
| Peshawar Zalmi | 10 | 4 | 5 | 1 | 9 | -0.055 |
| Quetta Gladiators | 10 | 4 | 5 | 1 | 9 | -0.722 |
| Islamabad United | 10 | 3 | 6 | 1 | 7 | -0.185 |
PSL 5 Points Table Glossary
T: The team of the league
M: The number of matches played
W: The number of won matches
L: The number of lost matches
NR: The number of matches abandoned
PTS: The number of points awarded
NRR: Net run rate