Zong continues to dominate Total Football Corporate League 2019
Zong team continued it dominance of the 2019 Total Football Corporate League as the 4th week of the event successfully concluded in Islamabad.
Total Football Corporate League 2019
Total Football Ground
The fourth week of the tournament concluded with Zong team sitting atop the first position just like the end of the third week while Sadiq Oil team's fall in performance caused them to lose their 4th position and now they sit at the 5th after the end of the fourth week matches.
Whereas MTBC has taken a step forward on the points table, taking Sadiq Oil team's spot and further leaving behind: AAI and NTC squads on 6th and 7th positions, respectively.
Total Football has once again brought a one of a kind event named: Corporate Football League, where several teams are battling it out with all their skills so as to be crowned the ultimate champions of the tournament.
The above mentioned football bonanza is being played at Total Football ground in Islamabad for five complete weeks, where footballing action is guaranteed. The matches are held three days a-week: Mondays, Wednesdays and Fridays from 06:30 to 10 PM.
RESULTS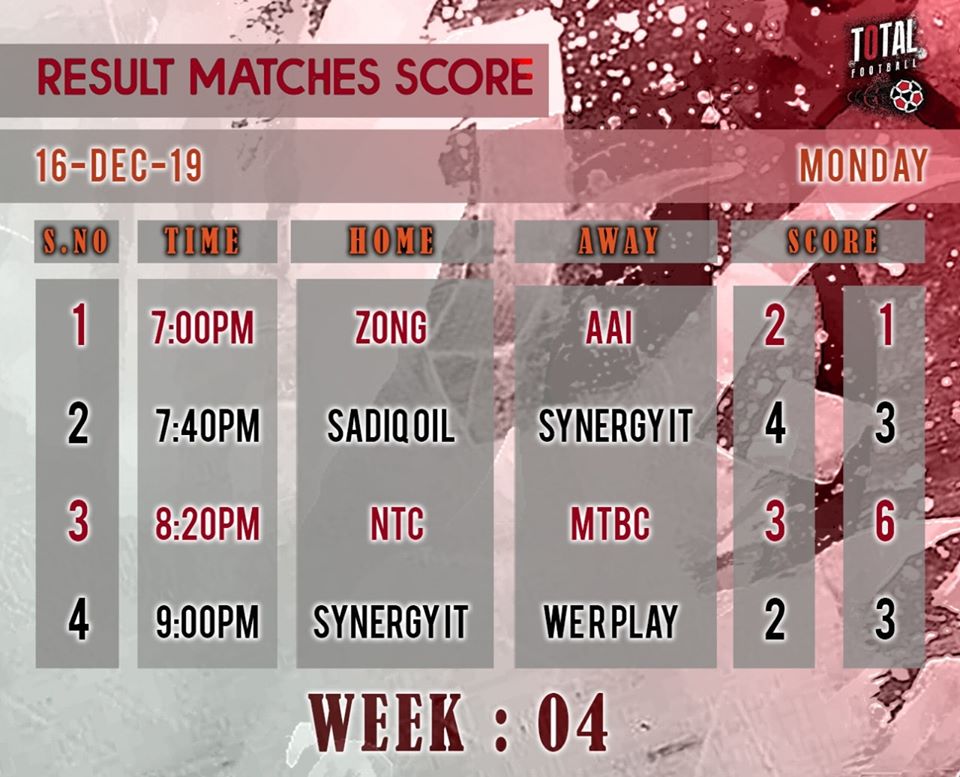 TOP SCORERS