Young Wushu athlete, Shahzaib Rindh settles for silver in South Asian Games 2019
Shahzaib Rindh lost his final bout to settle for the silver in Wushu competition at 13th South Asian Games which are being held in Kathmandu and Pokhara, Nepal.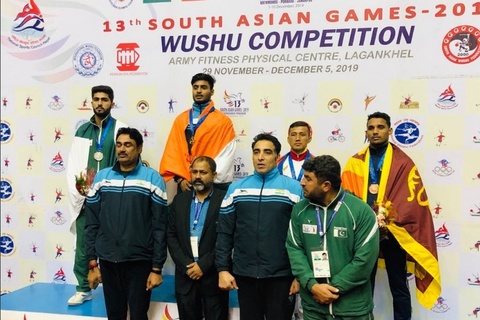 13th South Asian Games (SAG)
Kathmandu, Nepal.
National Wushu Sanda Champion, Shahzaib Rindh captured Silver medal in the ongoing South Asian Games 2019.
Shahzaib booked his semi-final spot in -70 KG weight class, by defeating an opponent from Sri Lanka but unfortunately lost his final bout against an Indian counterpart to settle for the silver.
Earlier in Wushu competitions, emerging Amjad Ali collected the first gold in the event for Pakistan in Sanda comeptitions of (-85 KG) and Fatima (- 52 KG), Abdul Khaliq (-56 KG), Saddam (-65 KG) and Dawood Shahid in Tao Lou Nan Quan event collected bronze medals.
Pakistan Wushu Federation (PWF) Offical, Malik Iftikhar said,
"We expect a couple of sure gold."
The South Asian Games is a biennial multi-sport event held among the athletes from South Asia by governing body of these games: South Asia Olympic Council (SAOC). At present, SAG 2019 are joined by seven members namely Bangladesh, Bhutan, India, the Maldives, Nepal, Pakistan, and Sri Lanka.
The 2019 South Asian Games are featuring a total of 27 sports where Pakistan have fielded its players in 20 different sports.