Pakistani pro boxer Muhammad Waseem set to face Mexican, Ganigan Lopez today at Rotunda Rumble 2
Pakistani apex professional boxer, Muhammad Waseem will be in action against former World Boxing Champion, Ganigan Lopez of Mexico in his fight scheduled for today at Rotunda Rumble 2 in Caesars Palace, Dubai.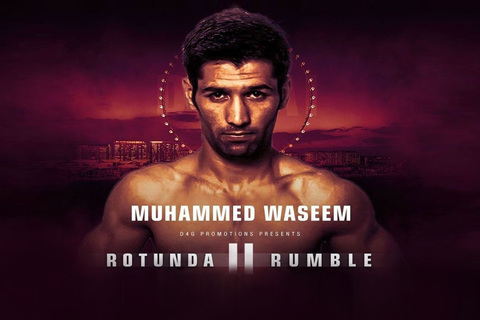 Pakistani hero, Mohammad 'The Falcon' Waseem is back and ready to shine again on Rotunda Rumble 2 platform where he left his fans stunned last time as he produced a lethal first-round stoppage win over Filipino counterpart, Conrado Tenamor.
"The Falcon" is prepared well for this fight which will be held in Caesars Palace, Dubai at sharp 10 PM (Pakistan Standard Time), in association with MTK Global and Round 10 Boxing Club event, today where he will look to cement his next step towards world title glory.
32 year old boxer, Waseem, who holds a career record of total nine fights with only a single loss while winning eight of the bouts through KOs and one via stoppage, has now stepped up to fight against former World Boxing Championship-Light flyweight Champion, Ganigan Lopez of Mexico this time, who owns the record of 36-10 after 46 professional fights. Lopez, nicknamed El Maravilla "The wonder" seems to be far more experienced than Waseem.
Regarding his upcoming bout, the Pakistani pugilist said,
"I'm confident of stealing the show once again. I'm very happy to be handed the chance to perform in Dubai for a second time in a row. I got lots of attention for my last victory because of which I am aiming to produce something as spectacular as last time."