29th BFA Asian Baseball Championship | PAK against 5 nations | Who is to win?
Pakistan is all set to feature in 5-nations BFA Asian Baseball Championship 2019 which is set to be held from 14 to 20 October in Taichung City of Chinese Taipei.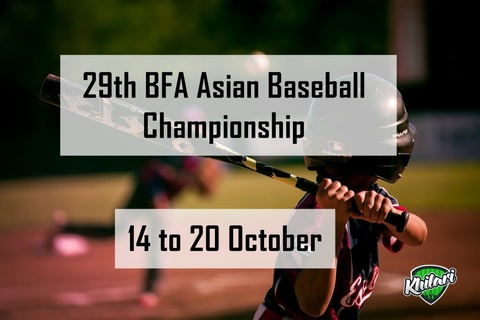 29th BFA Asian Baseball Championship
Taichung City of Chinese Taipei
14th West Asia Baseball Cup runner ups, Pakistan Baseball Team is determined to seal the 2020 Olympic berth for which, the green shirts are set to feature in BFA Asian Baseball Championship 2019 that is set to begin its proceedings from 14 October to continue till 20 October in Chinese Taipei.
Pakistan Federation Baseball (PFB) has fielded an 15 member squad that consists of one of the finest baseball players ever produced by Pakistan and they are namely stated below:
Taimoor Javed, Ihtisham Ul Haq, Rizwan Ali, Alamgir Khan, Mohammad Majeed, Fazal Ur Rehman, Mohammad Zakir, Umair Imdad Bhatti, Sumair Zawar, Mohammad Jawad Khan, Mohammad Ehsan, Usman Ali, Atif Ahmed, Mohammad Afzaal and Ahsan Bilal.
While Haseeb Mohammad (Manager), Musaddiq Hanif (Head Coach) and Basit Murtaza (Coach) are accompanying the teams as their officials.
Pakistan Federation Baseball (PFB) President, Syed Fakhar Ali Shah informed,
"We've received visas of our players and officials today and they will fly from Lahore Airport tomorrow. We've tried our best to prepare a strong outfit. The players have undergone tough training at a camp in Lahore. They are going with the conviction to finish at the top."
The world No. 24, Pakistan team qualified for 29th BFA Asian Championship, which also serves as an Olympic qualifier, after finishing second in the West Asia Baseball Cup that took place in Colombo in July this year.
This event is being organized by Baseball Federation of Asia that is featuring National teams of six Asian sides which include: China, Pakistan, Korea, Japan, Philippines, Hong Kong and Sri Lanka.
Pakistan has been grouped with China, Korea and Philippines in Pool B while Sri Lanka, Japan and Hong Kong are clubbed into Pool A. Pakistan will open its campaign against Philippines on 14th October and then will face Korea the next day.