"Ring of Pakistan" Festival (ROP FEST) 2019 begins tomorrow
Islamabad Sports Complex will be hosting several international wrestlers who will be fighting in the "Ring of Pakistan" Festival (ROP FEST) for three days starting from 28th to 30th August, 2019.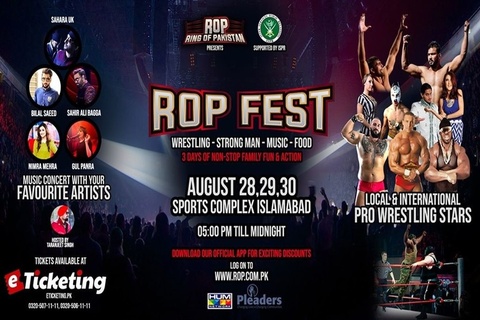 Yet again, team ROP is all set to organize Ring of Pakistan Festival which will be seen in complete action for three consecutive days commencing from tomorrow and would end on 30th August. ROP FEST is a family event packed with world class entertainment including professional wrestling, music, Strong-Man-Competition, food and lots of fun.
This one of its kind festival will be hosting several international wrestling stars this time as well who will be seen competing against each other so as to earn the ultimate title fight and to take home the winner's shinning belt home. These foreign wrestlers include: Chris Masters, Tiny Iron, Drake Destroyer, Badshah Khan, So Cal Val, Armitis and many more.
ROP FEST will also have various music artists who will perform in live concerts before and after the bouts and they would be: Sahir Ali Baga, Bilal Saeed, Sahara UK, Gul Parna etc.
The three days of action filled festival will have a Strong- Man Competition along with a live music concert; where, on the opening day, Sahir Ali Bagga and Gul Panra will sing along while the second day would have much fan followed singer, Bilal Saeed and Pro-Wrestling bouts. Third day will see the same competitions along with a music concert of Sahara UK.
Ring of Pakistan was founded with the aim of promoting wrestling which is the world's most watched sport shows. Before the inception of ROP, there was no formal body to promote wrestling in Pakistan. The team at ROP has successfully structured a platform for wrestling fans and athletes and is working in accordance with international standards to develop and promote wrestling in Pakistan.