Rangoonwala CC win over Rehman Foundation in Paracha Exchange 1st Royal Ramzan T20 Cricket Cup
Rehman Foundation suffered defeat by 10 wickets against Al Habib Rangoonwala Cricket Club in the 9th match of Paracha Exchange Royal Ramzan T20 Cricket Cup 2019 which is being played at IBA cricket ground in Karachi.
1st Paracha Exchange Royal Ramzan T20 Cricket Cup
Al Mansoora Cricket Ground
The ninth match of the tournament witness Al Habib Rangoonwala Cricket Club players giving their all against Rehman Foundation boys so as to earn the victory of the game, but it was the strong side of Al Habib Rangoonwala Cricket Club that outplayed their opponents by ten wickets to claim the win of the match.
It was said to be a one sided contest as Rangoonwala team put up a dazzling show to decimate Al-Rehman Foundation after restricting Rehman Foundation to a modest 117-8.
Rangoonwala boys blazed their way to victory in only 7.4 overs on the back of belligerent knocks from Bahadur Ali (60 off 25 balls, five sixes and six fours) and Bismillah Khan (55 off 23, five sixes and four fours) by reaching 120 without loss.
At the end of the game, Activade Man of the Match was declared Bahadur Ali while Adventuresy Special Performance awarded went to Bismillah Khan. Adventuresy Best Bowler title was given to Muhammad Ilyas.
SCORE CHART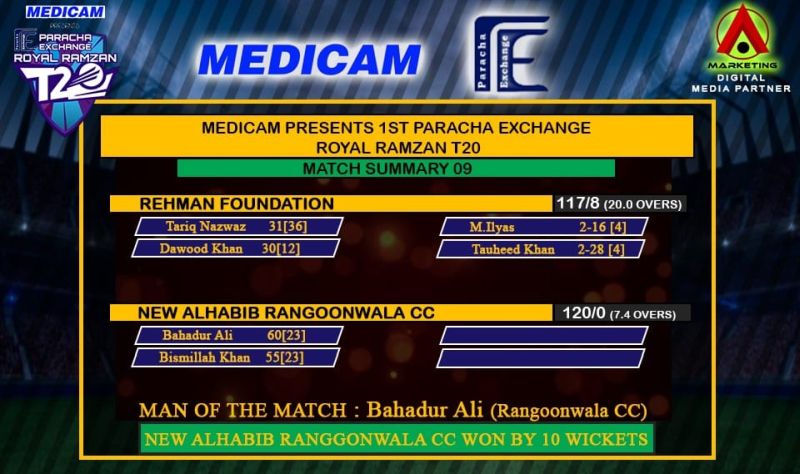 Today's fixture will have Heroes Cricket Club and New Al Habib Rangoonwala Cricket Club locking horns in the tenth match which is scheduled to be held at 02:00 PM sharp at the same venue.
Royal Cricket Club in joint efforts with Medicam has organized the first ever, Royal Ramzan T20 Cricket Cup, into the current year, for the very first time. This tournament is featuring about a total of ten (10) teams belonging to several noticeable cricket clubs from all over the Karachi city.
Participating teams are: Rehman Foundation Cricket Club, Heroes Cricket Club, Leopards Cricket Club, Tango Cricket Academy, Rangoonwala Cricket Club, Eaton Cricket Club, Omar Colts Cricket Club, Omar Associates Cricket Club, Qasmi Cricket Club and Dubai Hawks Cricket Club.