Army & WAPDA dominates 37th National Boxing Championship third day
A total of nine (9) boxers belonging to Army and WAPDA, completely dominated the third day of the 2019 National Boxing Championship which is in progress at Pakistan Sports Complex in Islamabad.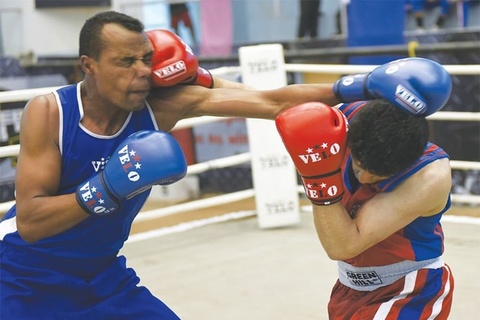 37th National Boxing Championship
Pakistan Sports Complex, Islamabad
A total of 19 fights were contested on the third day of National Boxing Championship in which it was the boxers from Army and WAPDA who won most of the fights, claiming further spots in the next stage of the championship.
The first fight was won by Sanaullah belong to WAPDA against Army's Mohammad Azhar in a close contest by 3-2 as he made his way into the semi-finals of 91 KG weight category competition. In another close fight, Abdul Samad from Baloch­istan df\defeated his opponent from Pakistan Air Force (PAF), Saeed Anwer by the same score of 3-2 to reach the semi-final stage in the 69 KG weight category competition.
Army's Ibrahim awon his place in the quarter-final of 60 KG weight category competition by thrashing his Punjabi opponent, Mohammad Shoaib by 5-0. While WAPDA suffered the first defeat into the day by Navy's Sheraz as Naseer Ahmed from WAPDA fell by 5-0 as well.

64 KG weight category had four fights contested in which the winners stood: Adnan Hasan, Faraz Abid, Ali Ahmed and Suleman Baloch. PAF'S Adnan defeated his AJK counterpart in the second round by KO while Faraz got to win through walk over by his Gilgit-Baltistan competitor, Ghulam Nabi. WAPDA enjoyed the first win through Ali Ahmed as he defeated Abdul Ghani of Balochistan by 5-0 and yet again, Army boxer, Suleman Baloch won against Qadir Khan from Navy also by 5-0.
In the 84 KG weight category, Army won once again, thanks to Awais, who fought against Navy's fighter, Majid and won the match in the third round by TKO.
Other Quarter-Final Results:
| | | | |
| --- | --- | --- | --- |
| BOXER | BEAT | BOXER | SCORE |
| Salar Abid (Khyber Pakhtunkhwa) | beat | Inam Ullah (Gilgit-Baltistan) | 5-0 |
| Amir Khan (WAPDA) | beat | Fahad (Punjab) | 5-0 |
| Gul Zaib (Army) | beat | Faraz Ahmed (Sindh) | 5-0 |
| Abdul Samad (Balochistan) | beat | Saeed Anwar Khan (PAF) | 3-2 |
| | | | |
| --- | --- | --- | --- |
| Shafi Ullah (WAPDA) | beat | Abid Ali (Police) | Abid retired |
| Saif-ul-Manan (Army) | beat | Ali Nawaz (Punjab) | First round RSC |
| Tanveer Ahmed (Navy) | beat | Hasnain Ali (PAF) | First round RSC |
| Ehsan Ulalh (Balochistan) | beat | Khalil Asghar (Sindh) | 5-0 |
| | | | |
| --- | --- | --- | --- |
| Sanaullah (WAPDA) | beat | Azhar (Army) | 3-2 |
| Mahmood Ul Hassan (PAF) | beat | Tariq Nawaz (Navy) | 5-0 |