Asif, Inam Ullah, Mehroz & Daud sparkle in 37th National Boxing Championship
A total of 118 pugilists are fighting for the title win in the National Boxing Championship 2019 which is in progress at Pakistan Sports Complex in Islamabad.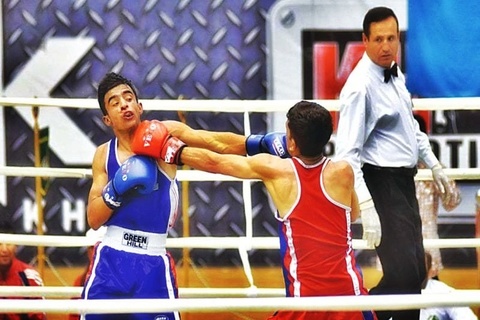 37th National Boxing Championship
Pakistan Sports Complex, Islamabad
Army and Khyber Pakhtunkhwa's boxers were up for the fight in the first 52 KG weight category fight contested in the National Championship in which the defending champion, Syed Mohammad Asif of Army knocked out Mohammad Hussain from Khyber Pakhtunkhwa on technical basis.
While in the second 52 KG weight category fight, Azad Jammu and Kashmir's Inam Ullah Khan struggled to etch his name on the win against Bashir Ahmed of Police by 3-2 and Mehroz Ali of PAF completely dominated the fight against Punjab's Hamza Mehmood on 5-0.
Police, yet again, had to suffer a defeat and this time much worst as their fighter, Mohammad Nadeem was thrashed by Daud Khan of Navy in 49 KG weight category competition by 5-0. In the other fight of the same category, Abu Bakr of Gilgit-Baltistan also crushed his Azad Jammu and Kashmir opponent Shafqat Khan by 5-0.
IESCO Chief Executive, Mohammad Shahid Iqbal was the honorable guest who graced the championship open along with Pakistan Boxing Federation (PBF) Secretary, (R) Lt Col, Nasir Tung and President Pakistan Taekwando Federation, (R) Lt Col, Waseem Ahmed Janjua.
Pakistan Boxing Federation (PBF) has organized the National Boxing Championship, into the current which marks it's 37th edition and is featuring a total of 118 pugilists from the affiliated units of Pakistan Boxing Federation (PBF), whose boxers are competing in 10 different weight categories of: 49 KG, 52 KG, 56 KG, 60 KG, 64 KG, 69 KG, 75 KG, 81 KG, 91 KG and 91+ KG.