Afghan FC Chaman to face Jallawan FC Khuzdar 3rd Ufone Balochistan Football Cup finale
Afghan FC Chaman and Jallawan FC Khuzdar defeated their respective opponents and book their place in the final stage of 3rd Ufone Balochistan Football Cup which is being played in Quetta.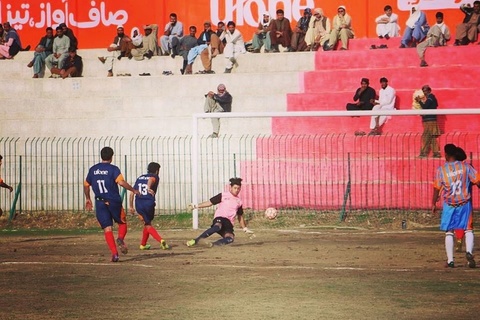 3rd Ufone Balochistan Football Cup
Different Football Stadiums
Afghan FC Chaman and Jallawan FC Khuzdar made their way into the final of 3rd Ufone Balochistan Football Cup as both the teams won over their respective opponents in the semi-final matches that were played under the floodlights for the first time ever.
The first semi-final clash was between Afghan FC Chaman and Afghan FC Pishin in which Afghan FC Chaman has to struggle to earn this win as the players from Afghan FC Pishin were giving there best in the ground and made it difficult for Afghan FC Chaman to score but Jadid Khan beautifully slotted the ball past several approaching footballers from the opponent team and landed it right in the back of the enemy net at the 45th minute and earned Afghan FC Chaman the win of the match.
From then on, Afghan FC Chaman did not allow the players from the opponent side to come any closer to their net post and came out with stronger goal-keeping throughout the game.
Whereas the second semi-final encounter witnessed a 1-1 draw as the Jallawan FC Khuzdar boys started the pace on high and scored the first very goal into match at just the 11th minute through Riaz Khan but Faiz Ullah Agha FC Quetta equalized the score-line at the dying moments of the game by Fateh through a corner. By the full-time mark, both teams had scored one goal each. But in penalty shoot-out Jallawan FC Khuzdar won the match.
About a total of 48 teams took part in the third edition of Ufone Balochistan Football Cup which was being held in eight (8) different cities within the country listed for the conduction of the tournament.
The championship was launched in 2017 and the second edition was held in 2018, both times with the aim of developing football in Baluchistan. And this time, as many as 720 young footballers participated in the tournament's qualifiers and Ufone or Pak Telecom Mobile Limited is being the title sponsor of the tournament for the third time in row.