Quetta & Balochistan to host 1st Inter Provincial Archery Championship
As many as 8 teams are to participate in this two-day Inter Provincial Archery Championship 2019 which is scheduled to be held from 29th to 30th April in Quetta and Balochistan.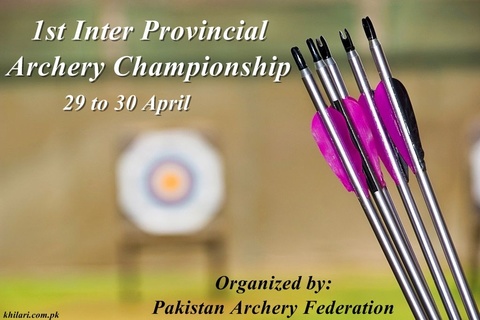 1st Inter Provincial Men and Women Archery Championship
Quetta and Balochistan
Pakistan Archery Federation is going to hold another exciting archery event for which all provinces, two autonomous territories and one federal territory of Pakistan are given invitations by Wisal Muhammad, Secretary General Pakistan Archery Federation, to send their teams to participate in this two-day event.
This championship will be held at two different venues in Quetta and Balochistan from 29 to 30 April, 2019. All provinces include: the host, Balochistan, Khyber Pakhtunkhwa, Punjab, and Sindh while the two autonomous territories are Azad Jammu and Kashmir and Gilgit-Baltistan. FATA and federal territory; Islamabad are also included.
Archery teams from the above mentioned provinces must comprise of 3 males, 3 females and one official each, for the participation in the championship. All the other terms and conditions will be announced or displayed on spot. Participants are to bring their own archery equipment and arrows with them.
Those archers who wish to participate in this mega event are to send their entries before 15th April, 2019 as it has been set as the deadline by Pakistan Archery Federation.