Karachi Queens win Pakistan Day Junior Women Softball Championship 2019 title
Karachi Queens defeated Karachi Angels by two runs in the final of Pakistan Day Junior Women Softball Championship 2019 to earn the title at Parsi Institute Ground in Karachi.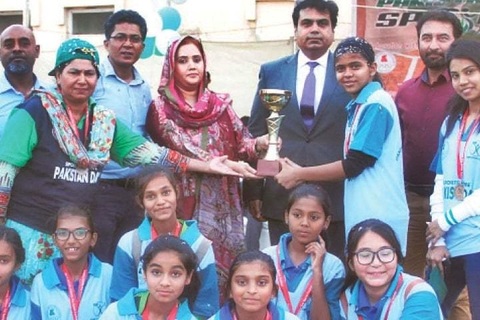 The match started with Karachi Queens and Karachi Angels battling for the title in the final which was to decide upon the winner of the championship, Karachi Queens started on a good pace and made five runs in the first innings while in response, Karachi Angels managed to score one less from the Queens that is, four runs.
In the second innings, Queens scored four runs while Angels responded with five runs to level the scores. Whereas in the decisive third innings, Karachi Queens made sure to earn the title by scoring five runs to which the Karachi Angels team failed to achieve the target as they managed to score only three runs.
Mursaleen Daniyal proced to be the key player for the winning team as she top-scored with three runs while for the losers Mahnoor Khan made three runs and was declared the Best Player of the event.
Moreover, as Karachi Dolphins and Karachi Pearls lost their chance to win the title of the championship, their good performances allowed both the teams to play the third position match in which it was Karachi Dolphins who won as the team earned a hard fought victory over their opponents: Karachi Pearls just by one run. Dolphins scored 9 runs in their 3 innings. Pearls managed to score 8 runs.
It was also announced by the Secretary General of Softball Federation of Pakistan (SFP), Asif Azeem that Softball Federation of Pakistan (SFP) will organize the Inter-City Softball League for the very first time in the month of October into the current year.
This mega softball action will feature a total of about five (5) teams belonging to the different provinces and cities of Pakistani which includes: Lahore, Islamabad, Peshawar, Quetta and host Karachi. Players from their respective teams will be seen in action during the championship so as to earn top honors in the championship.
It was also said that every team will have two foreign players in their side. Moreover, coaches and umpires from Dubai and Malaysia will also be invited.