Taimoor saves Ravi FC against CDA FC by 1-0 in 1st Islamabad Super Football League
The last weekend match's win was named by Ravi Football Club against CDA Football Club by 1-0 in the 2019 Islamabad Super Football League which is being played at Akbar FC ground in Islamabad.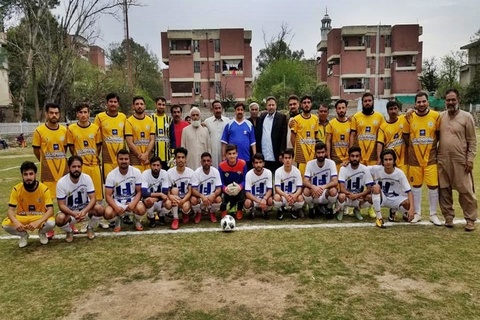 Islamabad Super Football League 2019
Akbar Football Ground
Ravi Football Club and CDA Football Club were battling for the win in the last weekend match played into the league in which Ravi FC stunned the CDA FC's team as it survived the fall against the great efforts made by CDA FC players.
Both teams were not able to score against each-other as players from both sides did not allow the attempts from either sides to pass through their goal post and ended the match in a goalless draw till the half time. Also, Afaq of Ravi FC was warned with a yellow card for his foul play in the game whereas the biggest upset was for Mudassir Shah who was warned by the refree with the red card which states that he would not be able to play the next match for his team.
However, Ravi FC's jersey no. 13, Taimoor, proved of his talent and came out stronger than ever as he slotted past several approaching footballers from the opponent team and finally landed the ball in the back of CDA FC's net post earning his team the victory of the match.
This match was also played under the supervision of refree Chaman Khan with his first assistant being Shakeel and second, Waqas.
Pakistan Football Federation (PFF) and Islamabad Football Association (IFA) has organized this mega football league that has been named as "Islamabad Super Football League" into its very first edition. This mega football action is featuring a total of eight (8) top football club's teams from the capital and the boys from their respective clubs and teams are seen making efforts to win against each other for the ultimate title gain of the league.
Participating teams includes: Rover Football Club, Mehran Football Club, Huma Football Club, CDA Football Club, Ravi Football Club, Evergreen Football Club, Akbar Football Club and Islamabad Academy. This league is having matches played only on weekends.