Mehran FC gets a direct win in Islamabad Super Football League 2019
Mehran FC got a direct win in their first match as the opponent team did not show up at the ground in the 2nd weekend match played into Islamabad Super Football League 2019, being held at different football grounds within Islamabad.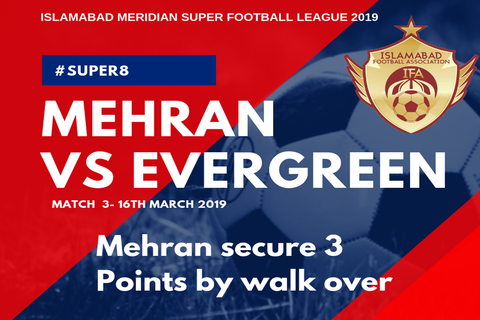 Islamabad Super Football League 2019
Akbar Football Ground
Huma Football Club and Islamabad Football Club were due for the third match into the league in which none of the team were able to record win as both finished the match in a goalless draw. This match was played under the supervision of match referees, Ghulam Mujtaba and Chaman Khan. Imran Ali of Huma FC was given red card for a serious foul at 04:29 into the game and now he would not play the next match for his team.
While Mehran Football Club and Evergreen Football Clubs were to clash in the second match in which Mehran Football Club team was awarded the win of the match directly as Evergreen Football Team did not bother to turn up to play the match at the ground.
The third game between Akbar Football Club and Ravi Football Club finished in an easy win for Akbar FC as the score line stood 3-0 at the end of the final whistle. The Akbar FC's boys were rushing on the ground, desperate to slot the ball into the back of their opponent's net post and they got successfully not once or twice but thrice. The vulnerable defence and blocking from Ravi Football Club team made it easier for the winning team to allow their attempts pass through as the team finished the match in their favor.
However the fourth clash, which also ended in a draw but this time it was a 2-2 score from both sides as the stamina, speed and efforts for the win were equal from both teams which resulted in draw of the match. Hamza and Usama goaled for the CDA Football Club while Muhammad Ayub and Nasir Alam scored for Rover Football Club.
Pakistan Football Federation (PFF) and Islamabad Football Association (IFA) has organized this mega football league that has been named as "Islamabad Super Football League" into its very first edition. This mega football action is featuring a total of eight (8) top football club's teams from the capital and the boys from their respective clubs and teams are seen battling against each other for the ultimate title gain of the league from the very first day into this league.
Participating teams includes: Rover Football Club, Mehran Football Club, Huma Football Club, CDA Football Club, Ravi Football Club, Evergreen Football Club, Akbar Football Club and Islamabad Academy. This league is having matches played only on weekends and two matches per day are contested.