Gladiators beat Zalmi by 10 runs to secure their third PSL final in four years
Quetta Gladiators 186 for 6 (Watson 71, Ahsan 46, Wahab 2-26) beat Peshawar Zalmi 176 for 7 (Sammy 46, Pollard 44, Hasnain 2-28) by ten runs to secure their third HBL Pakistan Super League final in four years.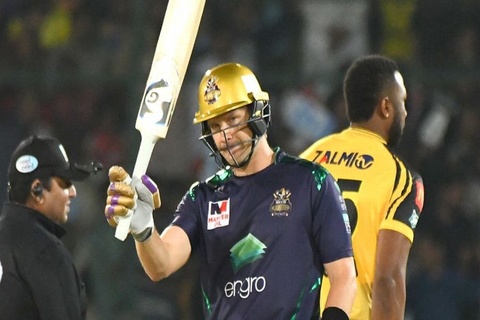 HBL PSL Pakistan Super League 2019
National Cricket Stadium, Karachi
Quetta Gladiators 186 for 6 (Watson 71, Ahsan 46, Wahab 2-26)
beat
Peshawar Zalmi 176 for 7 (Sammy 46, Pollard 44, Hasnain 2-28) by ten runs.
How the game played out
There was to be no one-run win for the fourth year in a row between these two hugely successful PSL sides, but don't take that to mean this game lacked drama. Peshawar Zalmi were on the brink of gunning down a target that, just six overs before the end, seemed beyond the realm of mathematical, never mind cricketing, possibility as the West Indian duo of Kieron Pollard and Darren Sammy put on an astonishing 36-ball 83-run partnership.
Quetta were hampered by the unavailability of Fawad Ahmed through the death overs after he was felled by a blistering straight drive from Imam-ul-Haq that hit him flush in the face, needing hospitalisation. It fell on Shane Watson, who had seemingly stopped plying his trade as an allrounder, to step in and bowl the final over, break the Sammy-Pollard partnership, and see out a ten-run win and secure Quetta a berth in the final.
Watson had been the hero, as the PSL's leading run-scorer has been for much of the tournament, earlier on with the bat. Quetta's steep 186 had been set up thanks to a searing assault from the Australian, who smashed five fours and half a dozen sixes to strike 71 off 43. He was complemented by a local batsman for a change, with Ahsan Ali's 32-ball 46 playing no small part in ensuring Quetta managed to exceed the 170 Sammy believed Peshawar needed to restrict Sarfaraz Ahmed's side to at the toss. It didn't help that Peshawar turned in one of their poorest bowling performances all season, with a fast, furious spell from Tymal Mills and a stellar one from Wahab Riaz offset by several off-colour bowling efforts from a number of their team-mates.
Peshawar's poor start cost them, and it wasn't until the fifth wicket fell that the sense of urgency they needed for a target that size really seeped into their game. The top five all failed to reach 25, none of them able to muster a strike rate in excess of 130. That meant they needed a mountain to climb in the final six overs, but in Pollard and Sammy, they almost had the men to reach the summit. They had started far too late in the day, though, and despite their best efforts, ended up having to turn back and try again another day. Friday, to be exact, against one of Karachi Kings or Islamabad United.


Turning point
Peshawar's decision to send in Liam Dawson and Misbah-ul-Haq even as it was evident that they needed a power-hitter alongside Imam-ul-Haq with the asking rate galloping along pegged the chase back. The pair could only manage to score at a run a ball, which only made the task harder for the batsmen that came lower down.


Star of the day
It would be hard to look past Watson, what with his heroics both at the start of the match with the bat and at the end with the final over. But another man, far less known and heralded, had done well on both those fronts without attracting the plaudits he deserves: 25-year-old Ahsan was the perfect partner for Watson for the second-wicket partnership, by no means playing only a supporting role in the 111-run stand. His 46 ensured it wasn't only Watson blazing away with no one to maintain the heat from the other end. Peshawar were allowed no release valve in the face of the two-pronged assault. What was more, Ahsan bowled one of the two extra overs in the wake of Fawad's injury, even picking up the wicket of Dawson in those six deliveries.


The big miss
The improvement visible in Dawson as an allrounder over the years with Peshawar was emblematic of a team that has continued to evolve season after season. This year, Dawson was one of the most effective spinners in the competition, and a lethal weapon with the bat, encapsulated by that last-ball four to beat Islamabad earlier in the competition. On Wednesday, however, it all seemed ill-fated right from when he was introduced in the Powerplay. He was smashed around, and only bowled one more. With the bat, he holed out to Ahsan in the crucial middle period for seven, leaving Sammy and Pollard with just too much to do at the end.


Where the teams stand
The resounding victory gave Quetta a spot in the PSL final, their third in four seasons. Peshawar still have a chance of meeting them there, provided they beat the winner of the Thursday's Eliminator.